About Bush 2 Beach Safaris
Welcome to Bush2Beach Safaris, a licensed tour operator based in Arusha, Tanzania, East-Africa. We specialize in private safaris and holidays in Tanzania, Kenya and Uganda, away from the beaten path, combining your wishes with East-Africa's best kept secrets into an unforgettable African holiday experience… Tanzania has a treasure chest of hidden bounties. A lot of these remain untouched by the crowded minibuses and safari vehicles, which tend to be pulled by a hidden magnet it seems, only to the famous Serengeti and Ngorongoro Crater. This is great in our eyes as it leaves the real feeling of Wild Africa un-cluttered. Her temporary visitors, namely you, experience a place that time forgot and have the chance to immerse themselves in pure nature. Bush2Beach Safaris prides itself in designing custom made safaris that cater to your specific interests. With our combination of Western and Tanzanian ideas, we know what is important for you to experience the ultimate tailor made-holiday adventure.
About our safari vehicles
Our fleet of 4 x 4 safari vehicles are made up of highly maintained Toyota Land-Cruisers, specially adapted for use on safari. The vehicles have proven themselves worthy of the unpredictable Tanzanian roads (and often, what passes for roads) and offer unobstructed views for all passengers. All our vehicles have charging facilities and fridges. Our safari vehicles come in different sizes; Standard Land-Cruisers offer comfortable space to up to 5 people and our extended Land-Cruisers seat up to 7*. Because of these maximum numbers per vehicle, every single occupant is assured of his or her own window-seat, easy access to the opened roof for game viewing, and ample leg-room during the drives to and from.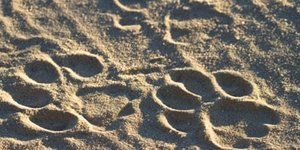 Visited: Aug. 2010
Reviewed: Mar. 17, 2020
Overall Rating_: Excellent. We would recommend going to Tanzania and Zanzibar in a heartbeat. East Africa is a beautiful part of the world with incredible people and an amazing culture.

Operator: Bush to Beach Safari in Arusha, Tanzania, owned by Chris Pilley and Ingrid Vaes. Chris and Ingrid are wonderful people who couldn't have been any easier to work with on our trip.

After evaluating Micato and Abercrombie and Kent Safari's, who Valerie Wilson Travel had suggested, we decided on a recommendation from a friend of ours to use Bush 2 Beach Safari's (B2B) instead. B2B provided a private 10 day safari to Tanzania plus a 5 day stay on Zanzibar at a significant savings. We took a trip that we created, not a pre-packaged tour that the other companies provide, with all the added amenities that we wanted for a truly amazing honeymoon. Aimee was spot on about using B2B!

Date of Trip: Left NYC on Friday, August 20, 2010 and returned on Saturday, September 4, 2010 via Amsterdam. The weather during our Safari was in the mid 80's (F), it was very dry, mosquitos/ tsetse flies weren't an issue and the parks weren't crowded at all. While we didn't get to see the Great migration, August is a perfect time to go.

Guide: Simon Kimora-excellent (historian, botanist, geographer, animal spotter, and interpreter) assisted by James Mollel (Camp Manager), Vallance (Chef) and Matthew (Camp Crew). They treated us like family and not clients during our Safari. We were sorry to have to say goodbye to them!

Places that we visited (in order): Tengeru (we found the Polish Refugee Camp that my wife's Great Grandparents were sent to during World War II from 1942-1948. Elizabeth's grandmother's two youngest brothers were born there), Arusha National Park, Mt. Meru, Lake Momella, Ndarakwai Private Ranch, Esilalei Maasai Community (which is sponsored by B2B), Tarangire National Park, Lake Manyara, Karatu, the Ngorongoro Crater, Olduvai Gorge (Cradle of Mankind), the Seregenti and finally Zanzibar (the east coast and Stone Town). Vehicle: Private Land Rover 4x4 w/pop up roof

Places that we stayed at (in order): the Onsea House in Arusha (a great B&B-Alex the owner and chef was very welcoming), the Ndarakwai Private Ranch (a B2B semi-luxury portable tented camp), the Tarangire Safari Lodge in the Tarangire National Park (a permanent tented camp-Honeymoon Suite), the Plantation Lodge in Karatu (Honeymoon Suite-our 2nd favorite lodge-amazing food and really nice owners/staff), the Ngorongoro Sopa Lodge on the rim of the Crater (the hotel is a bit dated and has limited hot water, but had an incredible view and sunset. They went out of their way for our honeymoon when we arrived!), and the Mbalaengeti Lodge in the Serengeti (our favorite lodge in Tanzania and a world class resort. Our raised tented chalet with a hot tub on our deck was amazing, the food was incredible and the staff was extremely friendly and accommodating).

Our longest stay of the trip was at the Shooting Star Resort on the east coast of Zanzibar. Our 3 story villa overlooking the Indian Ocean was one of the nicest places we have ever stayed in. We highly recommend this resort-the only drawback is the limited ocean swimming in front of the property due to the coral reefs and very low tides. The last night of our trip we stayed at the legendary 236 Hurumzi in the old Stone Town, Zanzibar. The superbly decorated suite on the top floor, that we stayed in, had an amazing view of the city.

Highlights of our trip (in order): 1.) The first time the two of us travelled to Amsterdam, Africa and the Indian Ocean, 2.) Interviewing Joseph for 45 minutes about being the first Tanzanian in 1942 to greet the initial 80 Polish Refugees to Tengeru and him remembering Elizabeth's Great Grandfather who wore an eye patch-its' what movies are made of, 3.) Doing a walking safari in the Arusha National Park with Rahema, who is one of only 2 female rangers in Tanzania, 4.) My wife went camping for the first time, 5.) Doing a walking safari through a watering hole/feeding area with two orphaned elephants, Nkarsis and Riziki, in the Ndarakwai Private Reserve, 6.) Going to the Esilalei Maasai Village and visiting with a family in their Boma, taking a medicine walk with a Maasai warrior, visiting the school house and ending with some traditional Maasai songs and dance-a truly inspirational experience, 7.) Taking a 2 hr Hot Air Balloon ride in the Tarangire National Park, 8.) Visiting the Hippo Pool at Lake Manyara, 8.) Simon locating 2 Rhinos in the Ngorongoro Crater, 9.) Seeing a female cheetah and her (4) cubs on the prowl, a pride of (4) female lions and (5) cubs trying to shade themselves from the afternoon sun, a pack of over 45 elephants heading to the watering hole and thousands and thousands of zebras and wildebeest on the move in the Serengeti, 10.) Sitting in the co-pilots seat to Zanzibar and flying over all the national parks we had visited the 10 days earlier-nothing like flying eye level with the top of Mt. Kilimanjaro!, 11.) Visiting Zanzibar, a Muslim country, during Ramadan, 12.) Stopping by the Mercury Bar in Stone Town, named after the late rock and roll singer Freddie Mercury from the band Queen, whose father was an accountant there for the British Government, and finally 13.) Meeting wonderful people from Bush 2 Beach Safaris and from around the world. We now have a lifetime of memories, 1,800 pictures and 12 hours of video from our honeymoon.

Disappointments from the trip: Having to leave Tanzania and Zanzibar!

Recommendations for a trip to Tanzania and Zanzibar: 1.) Do your homework on the various Safari and Tour companies out there and find out which one best fits your plans and budget, 2.) Plan at least 12 months before you want to go on your trip, 3.) Make sure you have trip insurance and Emergency Evacuation Coverage. Check with your tour company on the type of coverage they provide-you don't want to be without the right coverage but you also don't want to pay twice for the same protection 4.) Check with your tour company on the various local projects (schools, wells, healthcare) that they support and bring additional money if you want to support these causes. Alternatively you can ask about what type of supplies these charities could use (notebooks, pens/pencils, clothes/shoes) and bring them with you, 5.) Make sure the Tour company supplies you with a list of items to bring with you (rain gear, hat, glasses, camera's with very long lenses, binocular's, sun screen, bug spray, toiletries, malaria pills, etc), 6.) Insist on shopping where the locals shop and not outside the National Parks and learn the art of haggling because everything is negotiable!, 7.) Buy some books about Tanzania a few months before your trip that has maps and dictionaries in them. Try and learn a little about the various tribes (over 120) and their cultures and some basic Swahili before you leave. Tanzanians love it when you try and speak their language!

I hope this information will be helpful in planning your next trip to Tanzania or Zanzibar. Elizabeth and I can't wait for our next trip back to the Rift Valley with Bush to Beach Safari's and I know that if you decide to use B2B for your honeymoon or family vacation that Chris, Ingrid, Niels, Simon, James, Vallance, Matthew and the rest of the team will make sure that you have an amazing experience as well.
---

United States
Countries visited:

Visited: Aug. 2010
Reviewed: Mar. 23, 2017
---
Overall rating
Cleanliness of vehicle
Meet and greet team
Quality of itinerary
Responsiveness of staff