Main focus:
Budget safaris
---
Offers tours in

Namibia
---
About Blue Sky Namibia Tours
We are a small company and our speciality is arranging tours for small groups (1 - 7 guests) of friends or family (older children welcome), who are interested in discovering what Namibia has to offer and who wish to travel together at a slower pace. Namibia is such a big country that it is senseless to try to see it all in week or ten days. If you do, you will spend most of the time on the road instead of relaxing and enjoying yourself. We will arrange any length of tour, at any time of year (our summer months are very hot) to suit your requirements. However, we can also accommodate larger groups of guests who have the same interests and wish to travel as a group because a larger vehicle can be hired. Tours are conducted in English, but you do not have to be English speaking, as long as there is one person amongst the group who can act as interpreter.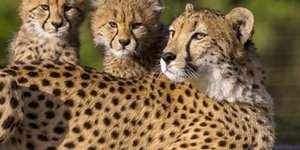 Visited: Feb. 2013
Reviewed: May. 02, 2016
If you have one safari to take in your life, Pieter Mostert's Blue Sky Namibia is the one to take. I've been on several safaris in Kenya and Tanzania, but never as instructive, fulfilling, and exciting as Pieter's. He is a naturalist who knows of what he speaks about the flora and fauna of Namibia.
In addition, he loves the country and takes great pride in telling people about its cultural and sociological fine points. I have a PhD in ethology so I consider myself qualified to comments on someone's knowledge of animal behavior. Pieter knows a great deal about that, and it's fun to talk with him. He's never pedantic and has a great sense of humor. He's also an indefatigable and excellent driver. My daughter and I never felt a moment's unease with him behind the wheel. And we drove 2600 km together! Pieter's wife, Tessa, is charming and they both make you want to come back to Namibia. In a nut shell, Pieter runs the best safari in town!
---
{{ review.user.profile.user_type_display }}

France
Countries visited:

Visited: Feb. 2013
Reviewed: Oct. 30, 2013