About African Queen Safaris
Travelers who want to experience the real, ancient Africa, find with us what you are looking for. Come with us on a safari in the old style. Experience the pristine wilderness of Africa. There, where the game is not behind fences, but draws freely on infinite levels. There are upland plains with thousands of gazelle, wildebeest and zebras. Lions lying on the rocks, huge herds of elephant and giraffes in the shadow of majestic acacia trees. In exclusive tented camps and cottages, nature is close and the campfire listening to the voices of the African night. Drive in an open vehicle and go on foot through the bush, that's Safari. Ride on horseback or by camel through the vast highlands, as described in "Out of Africa" ​​Do not wird.Träumen that, you go on the trip of a lifetime and discover Africa,
About our safari vehicles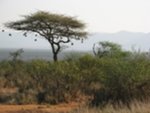 Visited: Dec. 2010
Reviewed: Feb. 17, 2017
In 2010 my wife and I decided to go on our first safari and were looking for a tour operator that would help us to find out what to do best and where. As we had never been to Africa before, we thought it a good idea to travel in company of someone who knows. We found Sylvia Ruetten, the zoologist who runs African Queen Safaris with all individual safari planning. Furthermore, she offers small exclusive group experiences in tours combining "places to go" twice a year and knows all the places very well. What we appreciated very much was that she advised us to do authentic places that are not overcrowded by other tourists. Our first trip with her and her husband brought us to Kenya and started with the wonderful open Masai lodge "Il Ngwesi" in the Laikipia Plateu. Next we stayed at "Lewa Wilderness Trails", beautiful cottages with a view feeling very British. Both are places where members of the royal family have been, too, and we understand why! A Cessna then brought us to Mara North Conservancy, Rekero Bush Homes, where we again met really impressing people that gave us bush picnics, walks on a hill, game drives till darkness and a waterhole right in front. We saw the Big Five and many many more on this safari, and had exceptional good food and accommodation. Last but not least we spent some days on Lamu in a beautifully decorated private house (Sylvia knows them all in Shela!) with a cook and a houseboy. Dreaming at the Indian Ocean in a real Swahili town included going out for a sundowner dhow trip or seeing dolphins and baby sea turtles. Do I need to mention that in the following years 2012 and 2013 we did tours with African Queen Safaris again? More of beautiful Kenya and Costa Rica (which she does, too). We are addicts now!
---

Germany
Countries visited:


Visited: Dec. 2010
Reviewed: Mar. 31, 2014
---
Overall rating
Cleanliness of vehicle
Meet and greet team
Quality of itinerary
Responsiveness of staff