Main focus:
Budget safaris
Languages:
English, French, German, Portuguese, Swahili
---
---
About Africa Natural Tours
We are Tanzania Serengeti safari and Mount Kilimanjaro hiking Operator in Arusha and in Moshi Africa Tours as the best Hiking, trekking and climbing Operator in Kilimanjaro and best travel Operator to Ngorongoro & Tarangire, Lake Manyara, Arusha and Burigi Chato National parks. We also do Masai Mara safari from Nairobi Kenya and Zanzibar Beach holiday in Stone Town. For Climbing Kilimanjaro / Hiking Kilimanjaro / Trekking Kilimanjaro all routes are Kilimanjaro best routes and so you will ascend Kilimanjaro with the Kilimanjaro best guide then to Serengeti migration Safari. Tanzania safari | Serengeti migration | mountain | mount | Kilimanjaro | hike | hikes | hiking | climb | climbs | climbing | trek | treks | trekking | trip | tour |ascent | ascend | ascending | organizer | tours | safaris | expedition | expeditions | operators | operator | company | companies | travel | Moshi | Arusha | agent | agency | agencies | packages | Ngorongoro | Tarangire | Lake Manyara | Meru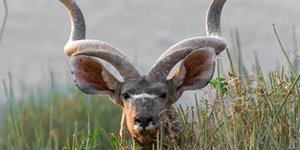 Visited: Feb. 2019
Reviewed: Nov. 05, 2020
I'm just back from a wonderful trip from Ngorongoro, and would like to tell you what a wonderful job George and Julius did. George was my guide, and Julius was my assistant guide, as well as pitching my tent and serving me my food every night. I believe there were originally going to be two people in my group but the other person must have canceled so that meant that I had an incredible amount of one-on-one attention lavished on me. George was a very enjoyable hiking partner and he did many extra things for me that he didn't have to do, such as taking me on a side trip one evening when I expressed an interest in exploring. His English is excellent, and he is a fountain of information, not just about the natural history of the mountain but also about politics, history, and culture. He was conservative at first about keeping me safe, but once he got to know me and was able to appraise my physical abilities and level of experience, he allowed me more latitude, which made the trip a lot more fun.

Julius, however, was the one who really rose to the occasion on this trip. On summit day, George asked him to accompany us for safety, so that we would be a group of three rather than just two. Julius went in front and I went in the middle. We passed the other groups, and by the time we were nearing Stella Point we were about an hour and a half ahead of the next group back. At this point it was becoming more and more clear that George was seriously sick. He hadn't been on the mountain since before the rainy season, so he probably wasn't quite as acclimatized as he could have been — and of course altitude sickness is not seriously fickle. Although I kept trying to convince him to head back down, he insisted on coming up as far as Stella Point, where he waited in the wind while Julius guided me to Uhuru. Julius was very confident, and obviously knew the mountain extremely well. In my opinion, Julius's performance in this difficult situation is the best possible indicator of his readiness to step up to being a guide.
---
{{ review.user.profile.user_type_display }}

Tanzania
Countries visited:

Visited: Feb. 2019
Reviewed: Apr. 26, 2019
Show more
---
Overall rating
Cleanliness of vehicle
Meet and greet team
Quality of itinerary
Responsiveness of staff