Horseback riding in Hwange National Park

Horseback safari holidays in Zimbabwe
Highlights
Horseback safaris allow riders a safe and serene option for viewing wildlife

Guests have the option to volunteer whilst on safari with Hwange Horseback Safaris

End of June through early October are the best times for visiting Hwange National Park
Trail and riding safaris in Hwange National Park
An African safari is the ultimate opportunity to observe, in person, wildlife in their natural habitat. There is absolutely no safari substitute for experiencing the sights, sounds and smells of the African bush. And it's addictive! Once you feel an African breeze on your back and watch the sun silently slip behind a leaning acacia, you've unknowingly committed to a lifetime of seeking and planning the next safari. Luckily, there is more than one way to safari (it can be a verb, too, right?).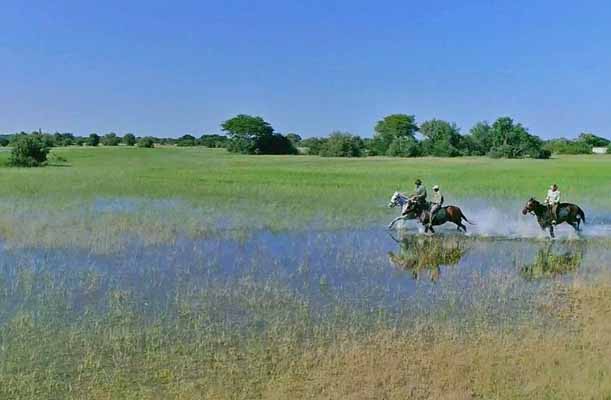 A safari on horseback provides a better mix of freedom than one on foot or in a vehicle. Like on a walking safari, you're not confined within walls and a floor—you are truly immersed in your natural surroundings while on horseback. Like on a game drive safari, you're able to cover greater distances on horseback than you can on foot. With no loud motor to warn lazing lions of your arrival, horseback safaris are a great choice for undisturbed wildlife viewing, and with a very unique vantage point to boot.
Horseback safaris in Hwange National Park
Hwange National Park is an excellent destination for viewing wildlife and has one of the largest concentrations of elephants in Africa. It is known for its 'super herds' of elephants, which can reach numbers in excess of 350.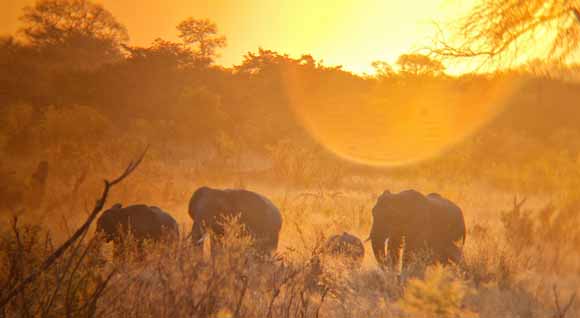 Four of the big five are readily found in Hwange. The rhino population, while scarce, is slowly making a comeback. Unlike other national parks of this caliber, Hwange remains relatively low-key throughout the year. This quiet vibe lends itself well to horseback riding and it's rare for riders to share their game viewing experience with safari vehicles.
When to visit Hwange National Park
Zimbabwe wintertime weather
Head to Zimbabwe during their coolest months and escape the heat of summer in the Northern Hemisphere. June through September are the winter months in Zimbabwe. During the winter the weather is normally dry and pleasant. Daytime highs are a comfortable 26C/79F and evenings and early mornings are cool, with temperatures dropping to around 8C/46F. April and May are also good choices for cooler horseback rides. April marks the end of the rainy season and brings with it cooler days and nights. October tends to be the last month in the dry season and is often the hottest month of the year, with daytime temperatures frequently over 40C/104F.
Zimbabwe summertime weather
November marks the start of the rainy season and is the precursor to summer. Daytime temps reach low 30s (around 90F) and, while the rains normally aren't heavy, intermittent showers shouldn't be ruled out. December through February are the wet summer months. Daily afternoon showers are common but daily horseback rides are very feasible and, with daytime temps hovering around 29C/84F, comfortable.
What does a horseback safari entail?
An example of a horseback safari seven day itinerary, courtesy of Hwange Horseback Safaris, might look like this.
Day one: Arrival and collection in Victoria Falls. Transfer is around two hours and passes through some of Zimbabwe's towns and landscapes. Depending on arrival time, guests will enjoy a snack or lunch before heading to the stables for a safety briefing and, of course, to meet the horses! If time allows, a guided walking safari or game drive may be possible before dinner.
Day two: Early start with a continental breakfast before heading down to the stables for the first ride of the holiday.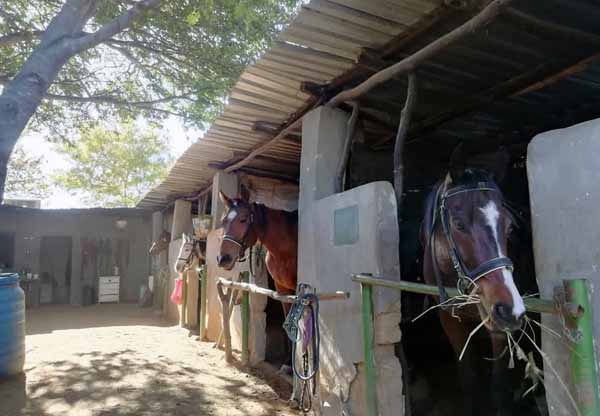 Early morning is an excellent time for spotting large game. A light lunch will be enjoyed out in the bush before heading back to the stables in the afternoon. Guests can enjoy a bit of a breather in the afternoon before heading off for their pre-dinner game drive.
Day three: Today guests have the option for a bushveld safari on horseback or a full-day game drive in Hwange National Park. Both activities acquaint guests with the flora and fauna of Zimbabwe's largest national park.
Day four: After a sunrise breakfast guests will mount their horses and ride through the savannah vlei before returning to the lodge for lunch. A walking safari in the afternoon is a wonderful opportunity to stretch the legs and enjoy more of the African bush.
Day five: Day five normally starts later, allowing guests the chance to sleep in a bit. Full-day horseback rides or visits to conservation or community projects are both options. The day ends with a game drive and an early dinner at a nearby waterhole.
Day six: The day starts with an early breakfast followed by a refreshing ride through the bush. Lunch and leg stretching are enjoyed around a local waterhole before heading back to camp for some rest and relaxation. An evening game drive kicks off the evening, followed by dinner and drinks.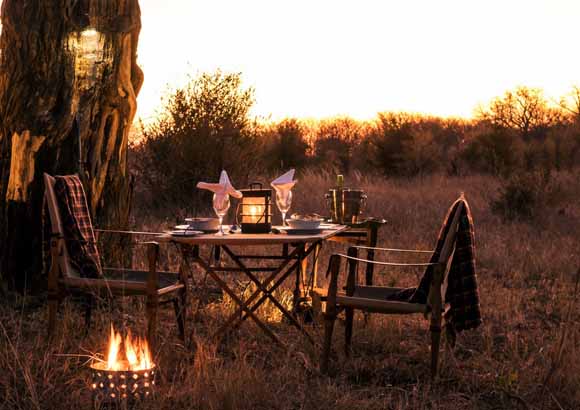 Day seven: Last breakfast around the campfire. Time and schedule permitting, it may be possible for one final horseback ride.
About Hwange Horseback Safaris
Located just outside Hwange National Park, Hwange Horseback Safaris is ideally suited for exploring Zimbabwe's oldest and largest natural reserve—via horseback or via game drive. Because Hwange National Park has no physical boundary, Hwange Horseback riders are not restricted to any specific area for their rides. Riders are able to move around freely to explore Hwange National Park and its surrounding areas as a whole, with the permissions from those who occupy or own the spaces the company rides on.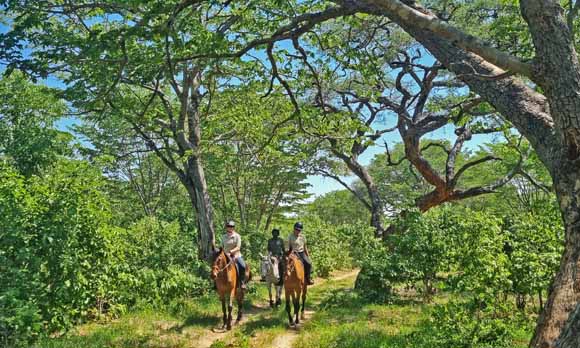 Hwange Horseback Safaris cater for riders and nonriders alike in their safari offerings and offer a variety of package durations to meet everyone's needs. They even offer day rides and rides by the hours, for those short on time or who weren't born in the saddle. Peta and her team are actively involved in ensuring Hwange's wildlife remains safe by assisting antipoaching units on mounted horse patrols. Guests who would like to participate in their rides with antipoaching units can request this at the time of booking and Hwange Horseback Safaris will do their best to accommodate them.
About the horses
Hwange Horseback Safaris currently has 17 horses in their stables. The horses are a nice blend of thoroughbreds, quarter horse mixes, warmbloods, Arabians, Boerperds and Percherons. There's a horse for just about everyone. Like all animals, the horses each have their own personalities, quirks and riding preferences. Some are ex-dressage, polocrosse or from the racetrack. Most have had a prior life of competing in one capacity or another. The horses' personalities are accommodated in the daily rides, such as putting some as lead horses or pairing some with beginner riders.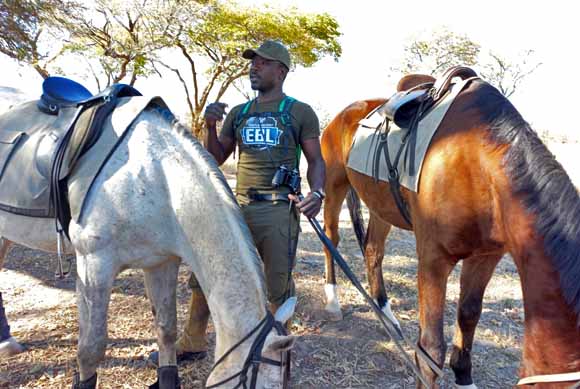 The horses keep guests and crew entertained on a daily basis. In their own way, they let folks know how they prefer to be ridden or which style of rider they'd enjoy taking up the reins. Sometimes, they think they're back in the ring and will pop over a broken down tree—only if the rider wants to attempt the jump, of course! This adds a little more excitement to the ride and the horse enjoys it, too!
Volunteer on a working safari holiday
Hwange Horseback Safaris provide their guests with the opportunity to roll up their sleeves and help out on the ground in the vast African bush. Those looking to give something back while on safari have the option to participate in a variety of hands-on activities, from snare sweeps with anti-poaching units on their patrols to litter clean up rides.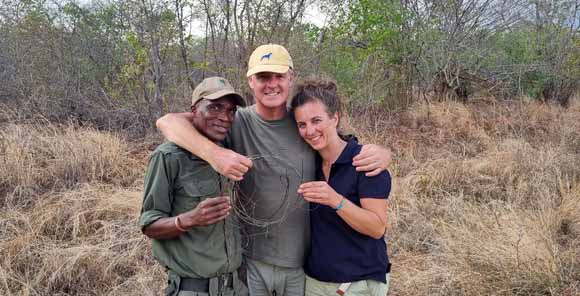 For wildlife lovers, excursions to help with lion research and/or painted dog conservation are also possible.
Volunteers are comfortably accommodated in their own house within 200 meters from the stables. Volunteer guest houses each have a kitchen, bathroom and small lounge area as well as an outside fireplace/ entertainment area to keep guests comfortable and feeling at home whilst away from their own homes for extended periods of time.
Horseback Safaris and community commitment
The team at Horseback Safaris take their involvement in the community seriously and strive to create a symbiotic relationship between the local people and the surrounding wilderness. Their main objective is to make a direct and meaningful impact on conservation in Zimbabwe and Africa as a whole.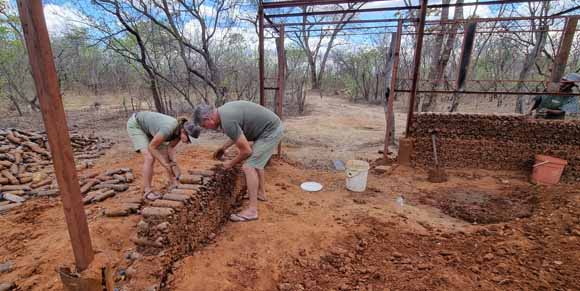 They work closely with local communities, imparting knowledge on how to reduce human-wildlife conflict and on ways to care for domestic animals like donkeys, cows, goats and dogs. Guests who are looking for a unique gift to bring back from their time in Zimbabwe can purchase handcrafted jewelry made by local women from broken glass and snares.
Your African Safari spoke with Peta Davies of Hwange Horseback Safaris to learn more about them and about horseback safaris.
What are the main advantages to a horseback safari vs. a game drive?
When you join us on a ride through the bush on horseback you have a unique and personal experience with the African bush and the wild animals it holds. One of the main advantages of being on horseback is the ability to get close to wildlife.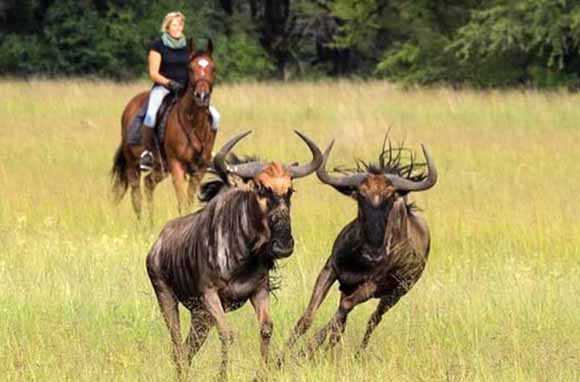 Without the engine noise of a vehicle the animals are usually more relaxed, allowing for us to get relatively close up for incredible encounters.
Is it possible to see large animals, such as lions and elephants, whilst on horseback?
There is always the possibility. We do not deliberately go looking for lion when on horseback, but there is always a chance you may encounter them whilst out on a ride. We see many elephants on our rides, along with other game such as kudu, zebra, giraffe and African buffalo.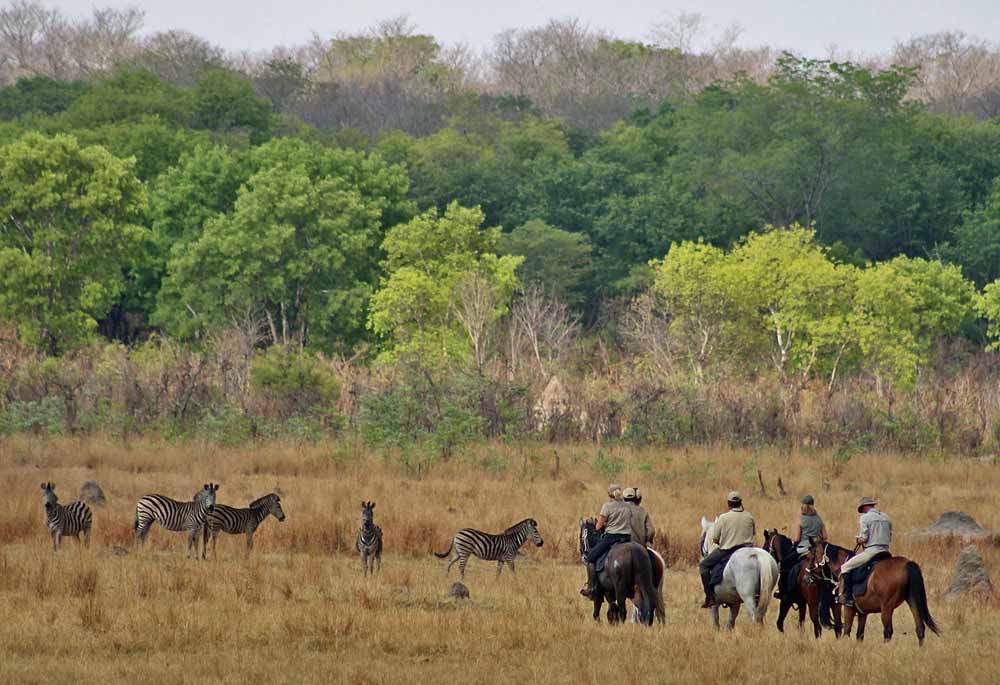 It is not uncommon to see multiple species on a ride, especially since the park is home to upwards of 100 mammal species and around 400 bird species. There's always a chance of seeing these animals from horseback but there is never a guarantee. The park has no physical boundary keeping the animals inside; they have the freedom to roam.
Can someone who's never ridden before join a horseback safari? How will their itinerary differ from that of a more experienced rider?
Yes, we can absolutely offer this option to a beginner rider! Due to our unique location bordering the park, we have the opportunity to select areas where there is less of a chance of bumping into big game. The rider may opt for a few shorter rides rather than a full day in the saddle. If you are not used to riding it is advised to do shorter rides to avoid being exhausted after a full day out. We also offer community rides—this is a fantastic option for guests so that they can experience the culture of Zimbabwe through its people. Often, beginner riders who are nervous would opt for this outing first until they are comfortable enough to trial the bush. For us, it's all about the guest's comfort and confidence.
What types of saddles are used? Will English and Western riders be at ease?
Yes, definitely! We have a selection of saddles. Our rides are primarily in trail or English style saddles; however we do have a few western saddles on site if necessary.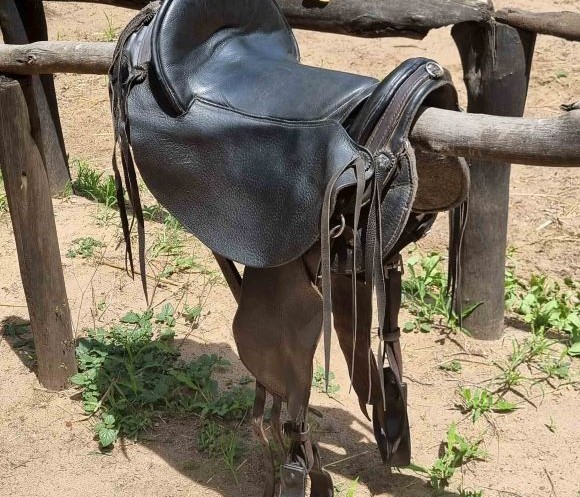 Guests are always welcome to let us know what they would feel most at ease in. We find trail saddles the most comfortable option and a really good mix of the western and English styles. Trail saddles allow for ample comfort whilst out on long rides.
It gets hot out in the bush. Do guests carry water on their horse? Are frequent stops needed for hydration?
Absolutely! The heat of the African bush can fluctuate throughout our rides and hydration is very important to both the riders and the horses. We have saddle bags on the horses and we always make sure that our guests have an accessible water bottle inside their saddle bags.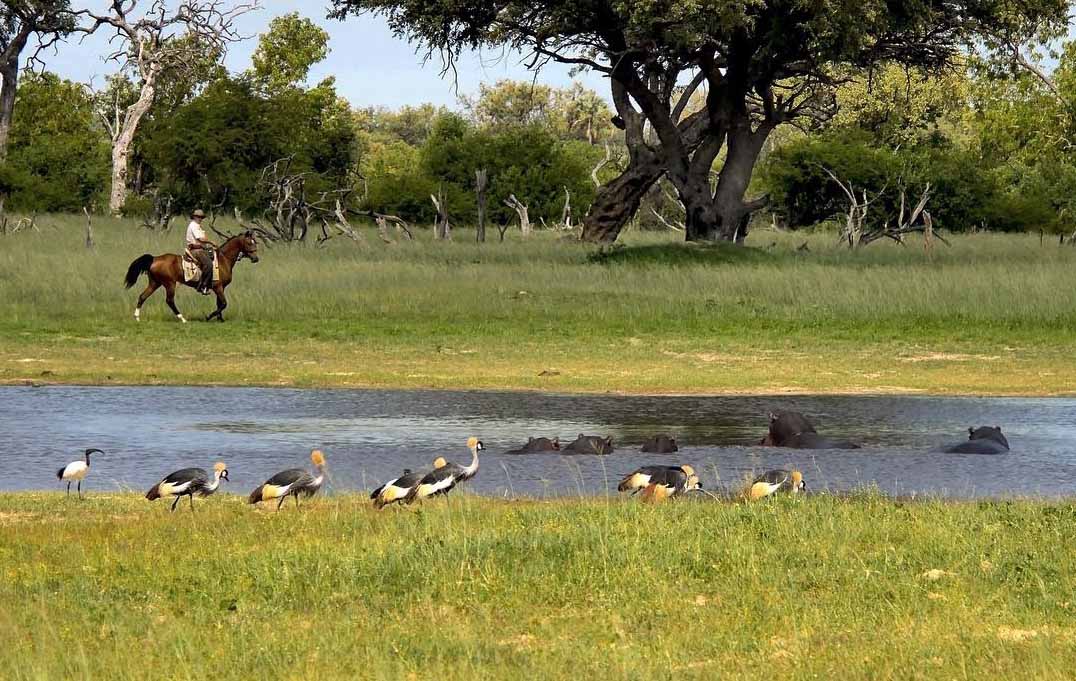 Guests are encouraged to drink as frequently as they please. On our half or full day rides we stop for a refreshment and some lunch or a coffee break. This gives the horses a breather and fresh water, along with our guests. We generally stop every three hours for a leg stretch and a drink—for riders and horses.
Can photographers participate in horseback safaris, or is carrying a large camera not advisable?
Photographers are welcomed. It can be tricky with large lenses and cameras. If guests have a strap that can be used to secure the camera to their body, it shouldn't be a problem. Of course, it is a risk that the camera could fall and get damaged; as long as the photographer is willing to take that chance, we do not have any objection.
Are there age and weight restrictions?
With regards to age, dependent on what type of ride is booked, we can accommodate just about everyone. We only offer pony rides for anyone between the ages of 5 and 11 years.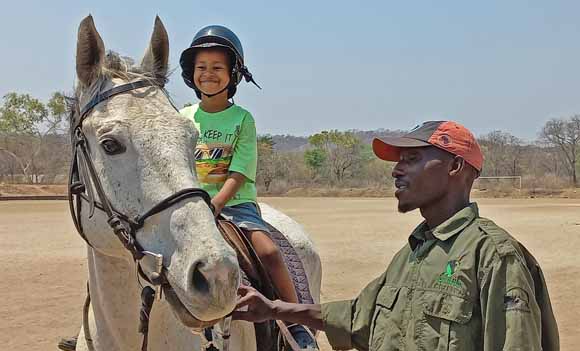 Anyone below the age of 18 would have to get parental consent for their rides. We do not have an age limit but advise any elderly guests that there is always the risk of injury, especially if they are unfit. For anyone below the age of 18, it can be a very long day in the saddle. If they are inexperienced, we would recommend a shorter ride. If they are experienced and capable of riding for extended periods of time, we can accommodate them on request. We are fairly flexible and can discuss the best options for our guests based on their age and ability level. We have a weight limit of 95kg, roughly 210 pounds. In special circumstances, we can accommodate a heavier person. This would have to be pre-arranged and be very dependent on the ability of the rider, as well as the length of time they are wanting to ride for.
What equipment should or can guests bring?
We recommend guests bring their own riding helmet, boots or closed shoes to ride in, and long pants. Jodhpurs are the best for a long time in the saddle, and long trousers or jeans are a good alternative. It is always advisable to bring suncream! We have a selection of helmets on site, should someone wish to borrow one of ours, as well as chaps and gloves if necessary.
What do you recommend for parties where some are riders and some aren't?
This is not a problem. Non-riders can be alternatively accommodated with game drives or shorter horseback rides.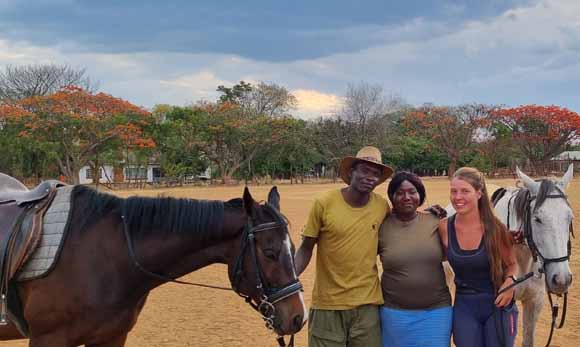 They can also go along with the horseback group, if everyone in the group is happy to go at a slower pace.
Botswana, Namibia and South Africa are popular destinations for horseback safaris. What would you say makes Zimbabwe a good destination for horseback riding?
As you have already mentioned, they are popular destinations! Zimbabwe is a less-discovered country whose terrain is in more of in a wild state. This makes for magnificent sightings—ones that aren't usually shared with masses of other tourists. Zimbabwe has a very innocent and unique rawness to it. It is an unbelievable country for a slightly less "commercial" experience, and the perfect destination for any adventurer!
Are horseback safaris possible year round in Zimbabwe?
Yes, they are possible! The best time of year is from the end of June through to the end of September or early October. This is our dry season and our winter.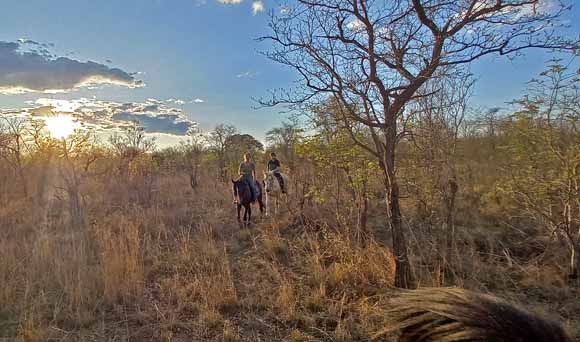 Temperatures are usually above 20 Celsius during the day and fall much lower at night. The game is prolific at this time of year. Otherwise, our rains last from November through until about March which is a little wetter but still very warm and the bush thicker which makes sightings not as frequent, however any time of year is really a fantastic time to visit! The landscape is beautiful throughout!
Which is your favorite month for riding in Hwange and why?
That is a very hard choice to make! If I had to choose, my personal favorite is around July-August: crisp winter days with warm winter sun and great game viewing! Another very underrated time, in my opinion, is mid-November. When our rains hit, our waterholes begin to fill and the landscape has a complete makeover from dark and dusty dead looking browns to magnificent greens—sometimes as soon as after the first rainfall. It's truly a beautiful time of year!
Anything else you'd like to add?
If I may, Zimbabwe as a destination is an incredible country that has been in my opinion severely overlooked on the global travel scale! It's absolutely overflowing with culture, awesome wildlife and some of the happiest people you may ever meet! Its unfortunate economic climate has delt the industry a difficult hand, especially since covid. Zimbabwe is a remarkable place that really captures the hearts of the travelers who have been lucky enough to feel its warm embrace.
About Peta Davies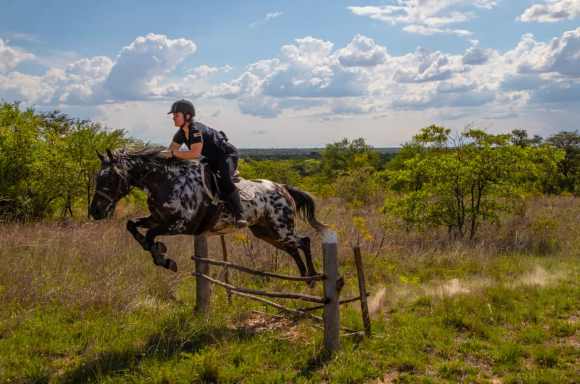 To say horseback riding is second nature to Peta would probably be an understatement. She grew up riding horses on farm trails outside Bulawayo, Zimbabwe. By the age of seven Peta was doing dressage and show riding competitions, and she only honed her craft from there. In her early adult years, Peta had the enviable opportunity to take her horse riding and management abilities overseas. She has worked, and sometimes trained and competed, in countries including Great Britain, South Africa, the United States and Saudi Arabia. She returned to Africa when Covid travel restrictions were in full force and was working in Cape Town, South Africa when she got the fateful call from Sharon, former owner of Hwange Horseback Safaris, asking if she'd like to take the reins, pun intended.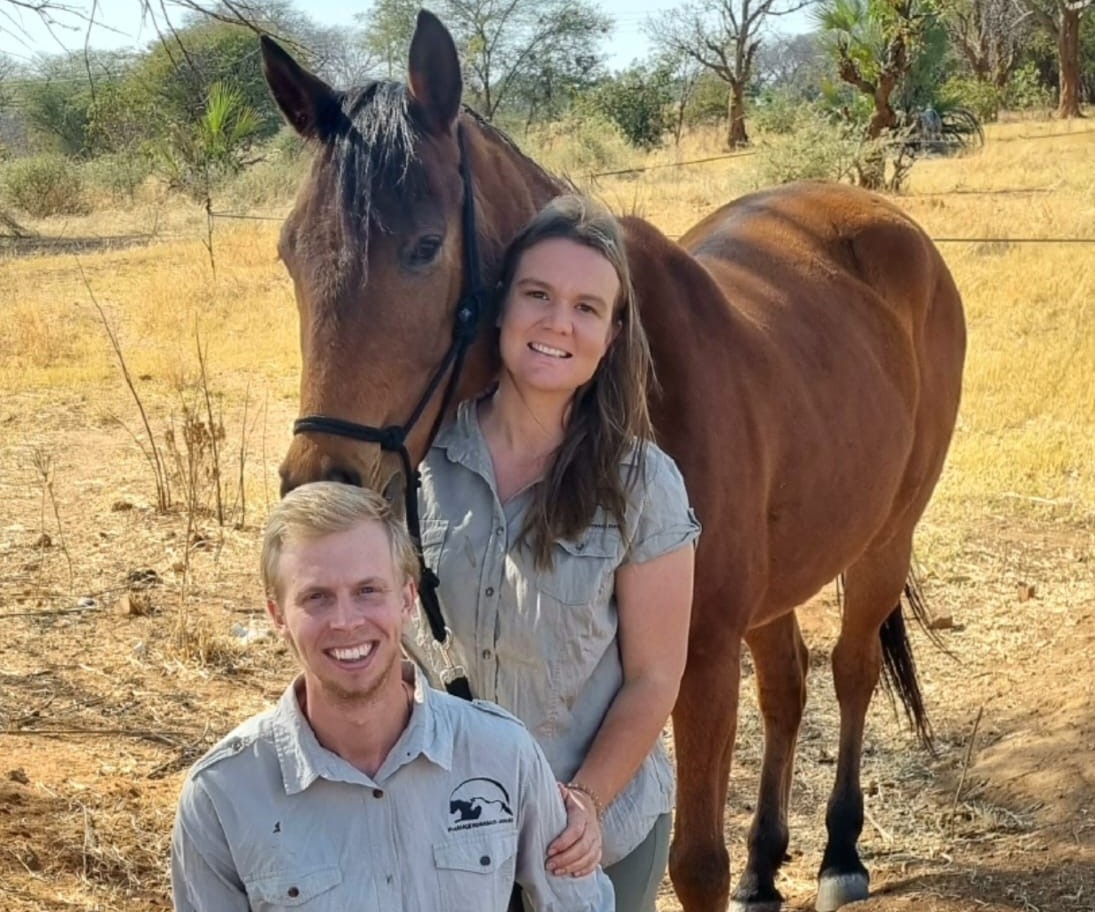 In August 2022, Peta Davies became the new owner of Hwange Horseback Safaris, which she runs with her partner, Oliver.
Favorite park or game reserve:
Obviously and completely unbiased...it always has been since I was a child and likely always will be…Hwange National Park!
Best time for a game drive:
My favorite time of day for a game drive is, of course, in the evening! Sunset is most definitely my preferred view. This, combined with the hustle and bustle of the wildlife in the bush (and a sneaky sundowner drink), is totally unbeatable, in my opinion!
Favorite mammal:
Uh, of course horses! However, with relevance to wildlife, there is something extremely special about elephants and their family dynamic that I respect and love all at once. These gentle giants certainly do win me over!
Favorite bird:
Crimson-breasted shrike.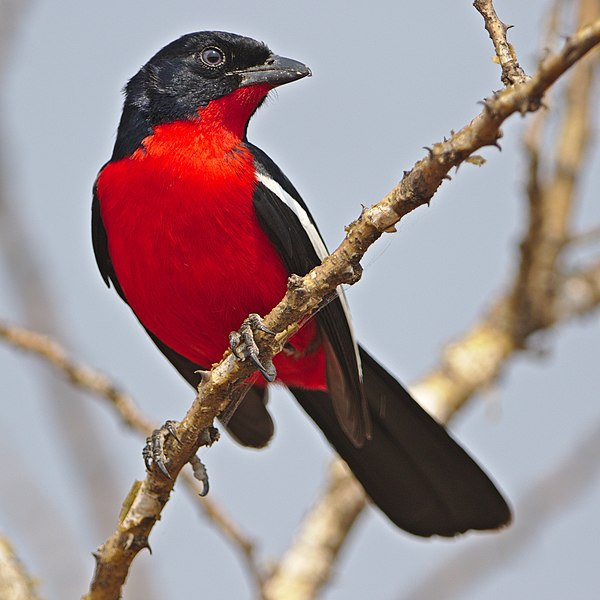 They hold sentimental value to me personally and overrule all the others with their "shriking" colors!
Favorite animal noise:
Stereotypical, I know, but the roaring of lions never seems to get old!
Sundowner of choice:
Typically, tequila would be my poison of choice! However, if I'm not looking to see imaginary animals, my go to would be a G&T when on safari!
Where have you not been on safari but would love to go?
Number one on the bucket list at the moment is Masai Mara—to watch the great migration!
To learn more about Hwange Horseback Safaris, visit their pages on Your African Safari.
If you're ready for a horseback safari, why not test your saddle knowledge with our short quiz?
About the author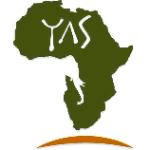 yourafricansafari.com

Has been on: 15 safaris
Your African Safari (YAS) is a safari-planning resource for anyone planning an African safari. It features information on over 2600 tour operators including company and vehicle descriptions, user reviews, safari itineraries and photos. It also features detailed information on 14 countries and 84 parks and game reserves.
Share on:
© Your African Safari Ltd, All rights reserved.
About YAS
Your African Safari is a safari-planning and safari review site. It was created to help support a healthy African wildlife population. All reviews are vetted before being approved and only ethical tours are published