Forest elephants in Semliki Wildlife Reserve | Wildplaces Africa

Get off the beaten path and visit the oldest protected area in Uganda—Semliki Wildlife Reserve
Highlights
Semliki Wildlife Reserve was previously known as the Toro Game Reserve

Semliki Safari Lodge was opened in 1997

Semuliki National Park and Semliki Wildlife Reserve are top destinations for bird watching

Over 400 species of birds can be found in the Semuliki Valley
Why Semuliki National Park and Semliki Wildlife Reserve should be your next safari destination
Uganda is known as the pearl of Africa, and for good reason. Its lush, undulating landscapes are home to some world class national parks and nature reserves such as Bwindi Impenetrable, Mgahinga, Queen Elizabeth, Murchison Falls and Kidepo Valley. The aforementioned parks receive the bulk of Uganda's tourists. Most guests who visit Uganda travel from Fort Portal to Murchison Falls, sidestepping Semuliki National Park and Semliki Wildlife Reserve.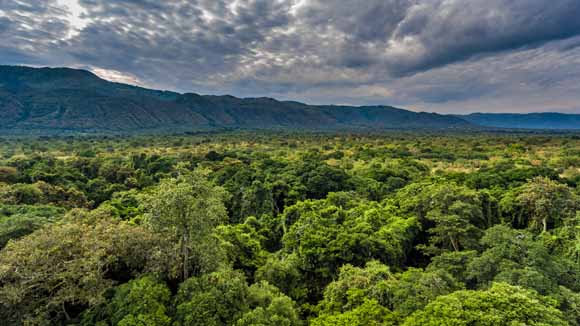 These verdant, fertile areas lie in the heart of the Semuliki Valley, which is nestled between the Rwenzori Mountains to the southwest and Lake Albert to the northeast. You would be remiss to bypass this lush stretch of tropical lowlands, rich in biodiversity and steeped in local culture.
Semuliki National Park
Although only 220 km², 85 miles² in area, this little park packs a mighty punch. More than 440 species of bird and 50 mammals call it home. Three nature trails allow guests to stretch their legs while immersing themselves in the diverse flora and fauna. One of the trails leads to the Sempaya Hot Springs, where geothermic water bubbles out of the ground at a scalding 103 C. The two main features of the hot springs are the male and female hot springs.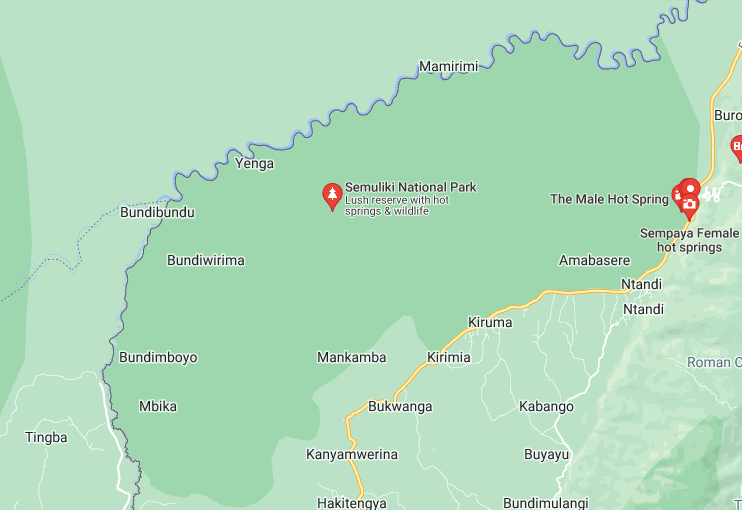 The male hot springs is known as Mumbugu in the local language. It is thought to bring prosperity to those who appease the male gods with their offerings. The female hot springs is called Nyasimbi in the local language. It is frequented by local women seeking assistance with fertility issues.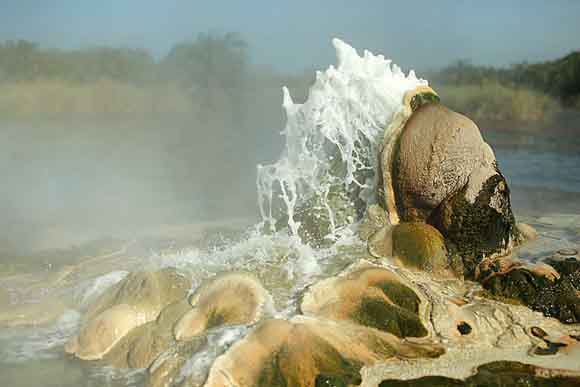 Female hot springs. Wikimedia
The two hot springs are about 30 minutes apart, on foot.
Semliki Wildlife Reserve—the Dr. Seuss of game reserves
There's one 'small' thing about the wildlife here that makes Semliki special—its diminutive size. In this wildlife reserve, several animals are smaller than your standard African wildlife fare.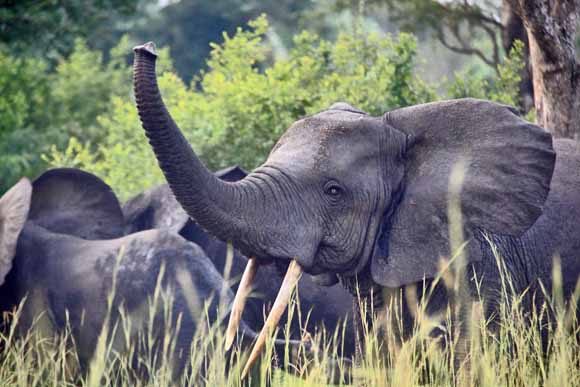 From miniature forest elephants with tiny tusks that point straight down, to pygmy hippos and pygmy antelope, to forest buffalo who are dwarfed by the Cape buffalo, Semliki feels like it could be on a different planet. The close proximity to Lake Albert also makes Semliki an ideal destination for boating safaris.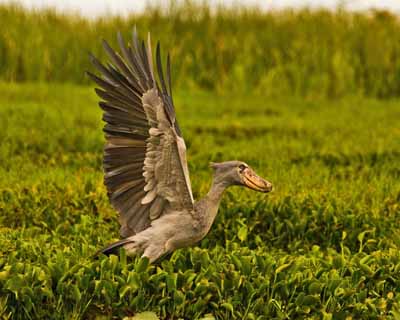 With any luck, you may spot the endangered shoebill.
Semliki Safari Lodge
Situated in the heart of Semliki Wildlife Reserve lies the only concession in the entire reserve—Semliki Safari Lodge. An intimate lodge, it consists of eight luxury tents and two safari suites. All tents and suites come with private verandas, en suite bathrooms with solar-heated water, four-poster beds and mahogany floors.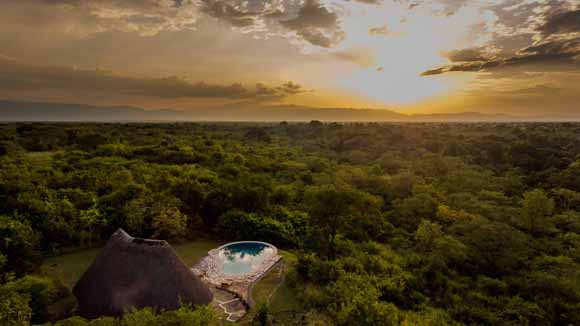 Rates include all meals and two safari activities per day. It is managed by Pamela and Jonathan Wright, owners of Uganda Safari Company and Wildplaces Africa. Your African Safari was fortunate to meet with the couple in person, to fully appreciate their profound knowledge of the area and of Uganda in general.
Could you briefly describe how Uganda Safari Company, Wildplaces and Semliki Safari Lodge are related?
It all started with Semliki Safari Lodge. Jonathan returned to the country of his childhood to build this lodge—a real dream of his to come home. Everything expanded from there. We were young and green and realized that we needed to get people to the lodge, so Uganda Safari Company was born and we started running trips all over the country.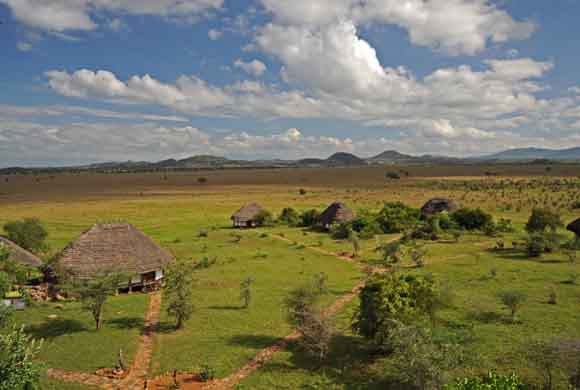 Apoka Safari Lodge in Kidepo Valley
The more we saw the more we wanted to get a foothold in these other fabulous pockets of wilderness. We built two other lodges—in Bwindi and Kidepo Valley—and Wildplaces was born.
Tell us a bit about how you came to manage Semliki Safari Lodge?
Jonathan, a Ugandan native, chose Semliki because it presented the scope to be involved in conservation as well as tourism. The whole reserve had been badly decimated during the turbulent years of 1970s and 80s. The lodge was slowly built out of timber, stone, grass and canvas and opened in 1997.
You are actively involved with the local community and environment in various ways, including assisting in antipoaching activities, pitching in at village cleanup days, volunteering at local orphanages and supporting local businesses. How can guests of the lodge also get involved?
Not all guests want to get involved—many just want to have a holiday, and know that their money does help with all of the above. For those who do wish to get involved, we are more than happy to set it up. They can let us know in advance how much time they want to devote and what they'd like to do. We have set up all sorts of activities with local communities.
You were instrumental in the launch of the Semliki Chimpanzee Project, which is located near the lodge. For an additional cost, guests have the option to do a forest walk with researchers from the Semliki Chimpanzee Project during their stay. What does the walk often entail?
The walk is fascinating. If we know that the researchers have been with the chimpanzees the day/evening before, we know where they will be in the morning. Chimps make their nests every night, so if you have 'nested' them, you will know exactly where they will be at dawn. It also means an early start. It means bumbling across the savanna in the dark in an open Land Rover to get to the forest, and then a lot of walking through a gorgeous tropical forest.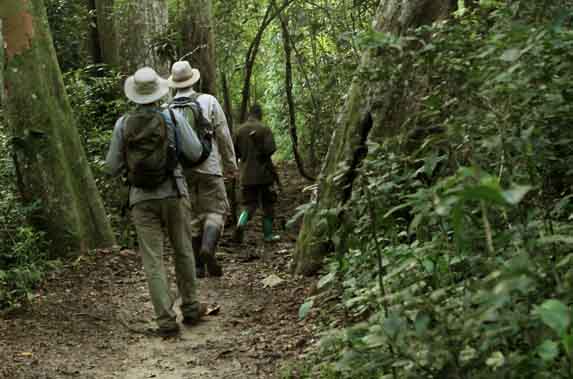 We have several kilometers of trails and transects cut through the forest, but sometimes chimps do their own thing and go off piste, so be prepared for some scrambling! Also be prepared for some long periods of sitting on the forest floor, waiting and listening and watching. The researchers will also be collecting data, such as dung samples.
The lodge is open year round. How does the area change between the wet and dry seasons?
In the rainy season the skies are much clearer. The views from the lodge across the forest canopy to the foothills of the Rwenzori Mountains, and also to the Blue Mountains of DR Congo, are spectacular.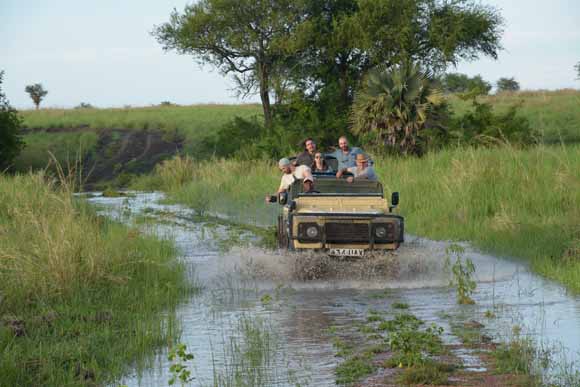 In the hazy dry season you often don't even see these features. The grass can be high and it can be challenging to see some of the creatures, such as civets and genets and warthogs, unless they are out on the grazed-down parts of savannah. But it's a reminder that these creatures are wild. It's also a reminder that we have other senses we can use—our hearing, our sense of smell—and it becomes rather exciting and strangely exhilarating to be allowing our other senses leeway.
If you had to pick one month to visit the area which would it be and why?
We love the beginning of the rains. The skies are clearing, the grass is short and sweet and the blossoms are everywhere. This is usually around end of March and beginning of April, or again in October. Our kids were away at school in the UK. When they came home at Easter, as we drove into Semliki and crossed the bridge at Wasa, they insisted on stopping so they could get out and smell the acacia blossoms that arched across the road. They would ride the rest of the way either sitting on the roof or with their heads out the window like labradors.
About Pamela and Jonathan Wright—from cod to kob.
How it all started. The couple met in Canada. Jonathan left Uganda in the mid-1970's, at the beginning of the insurrection, and he met Pamela while attending Trent University in Ontario. They were planning on building an inn in Newfoundland, Canada. During the cod moratorium in the early 1990's, the Canadian government was looking to support other industries to remove the heavy reliance on fisheries. Tourism was earmarked.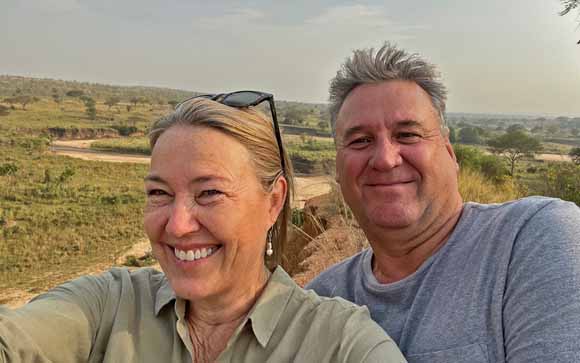 Jonathan was in Ottawa, having meetings about federal funding for this inn in Newfoundland. Out on a walk between meetings, he spotted the Ugandan High Commission. Curious, Jonathan popped in to say hello. The commercial liaison officer at the time suggested that Jonathan should consider coming home to help rebuild his country. Jonathan couldn't resist. He was invited by the president to come and explore opportunities. Before Pamela and Jonathan moved to Uganda, they managed to raise donations from a number of different organizations; not money but goods, to help the rangers get back to form. They raised donations of backpacks, radios, boots, uniforms, tents, sleeping bags…all the things needed to equip a ranger force to get out on patrol. At the last minute, before the shipment went, they realized they forgot to get socks. A sock company kindly responded, immediately, and couriered boxes of socks to the cargo flight that same afternoon.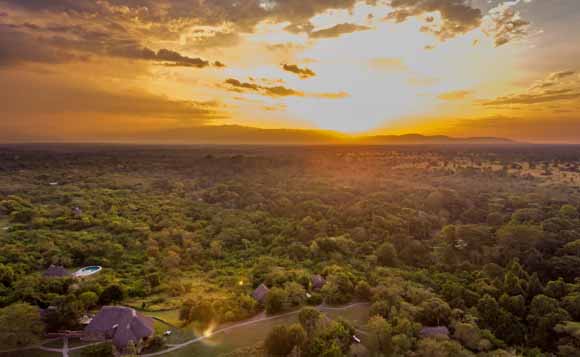 Semliki Safari Lodge was opened in 1997 and the duo has not looked back.
Favorite park or game reserve:
Pamela: I love Queen Elizabeth—it's gorgeous—but Semliki feels like coming home.
Jonathan: I can't answer that!! I love them all. But Semliki does feel like home.
Best time for a game drive:
Pamela: I am not a morning person and am happy to have tea in my bed, listening to the birds. I enjoy a good sundowner drive.
Jonathan: Dawn, hands down.
Favorite mammal:
Pamela: I just love warthogs. So much character.
Jonathan: Elephant, probably. The sound of the rumbles, the family dynamics. Fascinating.
Favorite bird:
Pamela: That's hard. Green pigeon, great blue turaco, gonolek…
Jonathan: Great blue turaco. That tropical call of theirs.
Favorite animal noise:
Pamela: Subsonic rumble of the elephant.
Jonathan: Agreed—or the roar of a lion.
Sundowner of choice:
Jonathan: Nothing beats a good G&T.
Pamela: A chilled white wine. With ice!
Where have you not been on safari but would love to go?
Jonathan: I would love to see something completely different, like Namibia.
Pamela: I would love to see hunting dog and maybe seeing them in the Selous would be cool.
About Wildplaces
Wildplaces is relentless in their commitment working with Ugandans to protect and preserve Uganda's parks and reserves, and has been providing support to Uganda Wildlife Authority for over 25 years. The company has provided clean water for rangers for a quarter of a century. They've also participated in local community iniatives such as pre- and post-natal health support, mosquito net distribution and rainwater harvesting. Critically, they've fought self-interested parties who want to clear the land for agriculture use, thereby annihilating the flora and fauna, including some extraordinarily rare species. Pamela and Jonathan believe Semliki Willdife Reserve would not exist today if it were not for the management of Wildplaces and its local staff, who have embraced the ethos of the company.
To book your visit at Semliki Safari Lodge, or to learn more about their conservation goals and efforts, please visit their website.
---
Sources and credits
Map of Semuliki from Google Maps
Image of Sempaya Hot Springs by Wikimedia
Image of Apoka Safari Lodge by J Goetz
All other images are property of Wildplaces
About the author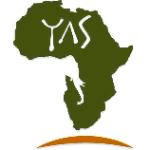 yourafricansafari.com

Has been on: 15 safaris
Your African Safari (YAS) is a safari-planning resource for anyone planning an African safari. It features information on over 2600 tour operators including company and vehicle descriptions, user reviews, safari itineraries and photos. It also features detailed information on 14 countries and 84 parks and game reserves.
Share on:
© Your African Safari Ltd, All rights reserved.
About YAS
Your African Safari is a safari-planning and safari review site. It was created to help support a healthy African wildlife population. All reviews are vetted before being approved and only ethical tours are published