Backpackers on the Mphongolo Trail, Kruger National Park.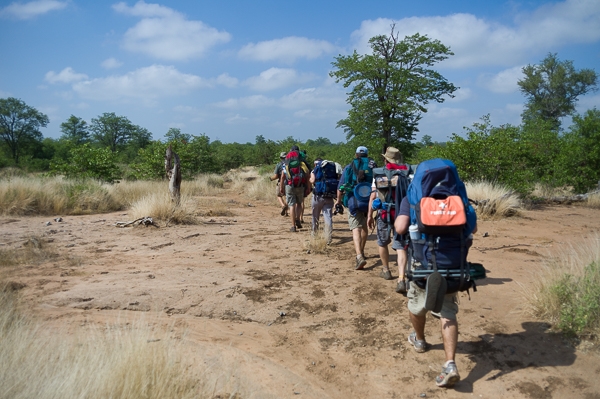 Published on February 06 2016
Written by: Morgan
994 views
Backpacking with the big five in Kruger
Highlights
Backpacking offers a more intimate view of Kruger National Park.
Three trails are on offer, each four days and three nights.
Groups of between four and eight hikers are accompanied by two armed-guides.
Hikers bring and carry their own food and equipment and camp according to the "leave no trace" wilderness ethic.
Experiencing a big 5 safari on foot
"Hear that?" My trails guide whispers as he leads us through thick, thorny bushes, "It's the call of the Red-billed Oxpecker. It means big game is around, maybe buffalo. Stay close and keep quiet."
In South Africa's iconic Kruger National Park, hikers get a rare opportunity for true wilderness backpacking in big five territory. It's possible to see elephant, rhino, leopard, lion and buffalo all while traversing hoof- and paw-worn game trials on your own two feet. Plus, other wildlife and fascinating plants abound, and your guides can teach you all sorts of bush craft tricks. It's an activity that's sure to delight thrill-seekers and nature lovers alike. But be warned, the wilderness trails are the antithesis of luxury safari camps—you bring and carry your own food and equipment, and no one hands you a refresher towel and cocktail at the end of a hard day's walking. You're left to your own devices to set up your tent, fetch and purify water, cook your food, and in the morning, erase any trace that you were ever there in accordance with the wilderness ethic.
Olifants, Lonely Bull and Mphongolo: The trails of Kruger National Park
Kruger offers three wilderness backpacking trails spread through the park: Olifants, Lonely Bull, and Mphongolo. Each trail has a unique environment with a different appeal, and each is a four-day, three-night trip. A team of two professional guides, armed with rifles for safety, lead hiking groups that consist of a minimum of four and a maximum of eight guests. There are no overnight huts or set campsites. The trails don't follow specific routes. Instead, where to go and when to make camp each night is determined by the guides according to the interests and abilities of the group. So, no two hikes, even on the same trail, are exactly alike. The Olifants Trail, which covers about 42km or 26 miles, is known as the toughest and hairiest—it follows the course of the Olifants River, so frequent encounters with big game are nearly guaranteed, and daily hiking distances tend to be longer. The Lonely Bull Trail explores the wilderness area surrounding the Letaba River. For my backpacking trip, I opted for the Mphongolo Trail, the most remote of the three, exploring the arid wilderness of the northern part of Kruger amid colorful mopane trees. We made camp one night at a hot springs and heard the hyenas come to drink at night. We camped for two nights in dry sections of the scenic Phugwane riverbed.
When to hike Kruger National Park
The trails are only open seasonally, from February to November, to skip the hottest and wettest time of the year. Your chances of seeing wildlife are best when animals are forced to congregate around water sources during the driest times. But to be honest, if seeing animals is your goal, you're probably better off sticking to game drives rather than backpacking. Safari vehicles can cover much more distance in search of game and get much closer to animals because wildlife tends to be more alert to the recognizable outline and smell of humans on foot. However, backpacking is a great opportunity for visitors who have already experienced game drives and want a more authentic nature experience. While you may not have the best sightings on foot, those you do have will be very special. For example, we had a beautiful sighting of the rarely seen sable antelope.
Learning new skills on a walking safari
While you might get lucky and have good wildlife sightings, the real draw of the backpacking trails is having a more intimate experience in nature—all your senses are on peak alert when you're walking through a thicket in big five territory. Your ears attune to the slightest snapping of a branch and the call of the Oxpecker, your nose and taste buds tingle with the smell of big animals and seasonal blooming bushes, and you feel the sand underfoot and the blazing sun overhead. You realize how feeble your eyesight is in the dark.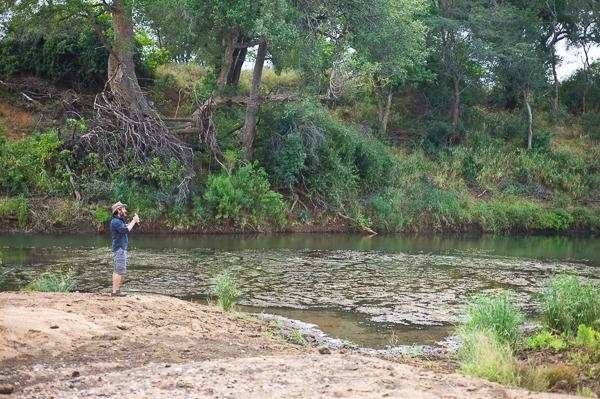 Despite the fact that my hiking partner had his Go Pro at the ready the entire hike to get a shot of the action when it came our way, we never had any close encounters. That was fine by me.
But we did learn a lot. The guides provide a wealth of knowledge on bush craft. They teach hikers about tracking animals, survival skills, which plants are useful and for what, and all about the wilderness camping ethic.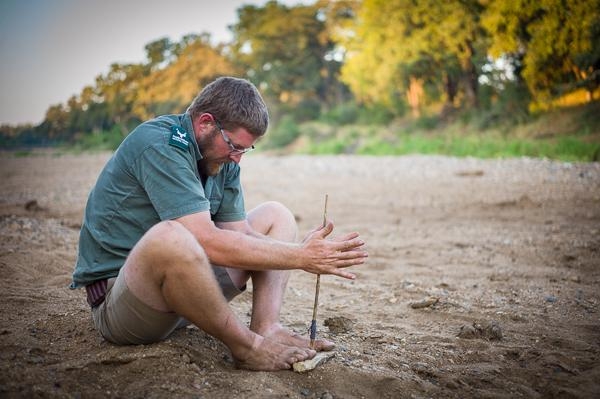 We learned how to make rope out of tree bark, how to dig for clean water in a sandy river bed, how to navigate and tell time by the stars, and we also got the chance to try our hands at lighting a fire with two sticks and some elephant dung for fuel. Not easy, but doable and a good trick to know for parties if not for survival.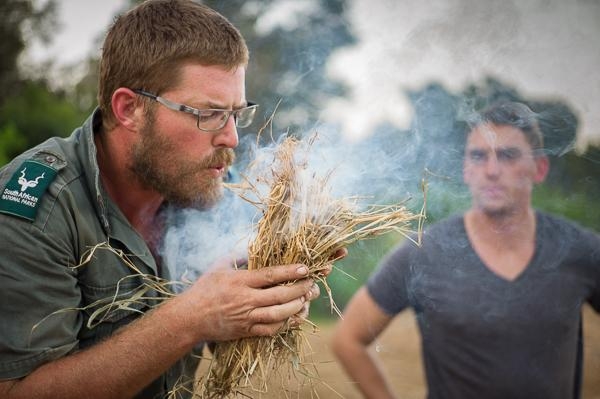 If hiking in big five territory sounds appealing, but carrying your own equipment doesn't, also check out Kruger's Wilderness Trails, more luxurious walking safaris that make use of fixed camps and catering staff.
---
Sources and credits
Morgan Trimble www.morgantrimble.com
About the author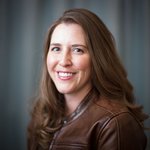 Morgan

Has been on: 20 safaris
I'm an adventurous traveler and like to get off the beaten track. I'm a writer and photographer, and I enjoy a wide range of topics, especially travel, adventure, and nature. See more of my work at www.morgantrimble.com
Share on:
© Your African Safari Ltd, All rights reserved.
About YAS
Your African Safari is a safari-planning and safari review site. It was created to help support a healthy African wildlife population. All reviews are vetted before being approved and only ethical tours are published