Giraffe Manor, Nairobi, Kenya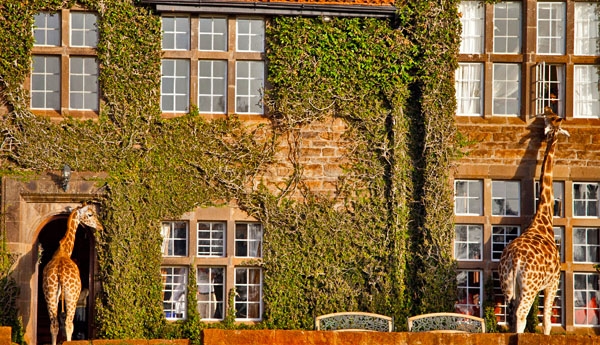 Published on May 05 2015
Written by: caorarua
673 views
7 of the most unique hotels to visit when in Kenya, South Africa and Tanzania
Highlights
Satao Elerai Lodge allows you to lie in bed and gaze out on majestic Mt. Kilimanjaro.
Manta Resort, off Zanzibar, offers underwater lodging!
Lion Sands Tree Houses lets you sleep like a bird, right up in your own luxury tree house!
Giraffe Manor lets you offer your favorite ungulate a bit of breakfast from your very own hand.
Hotels have become more than just a place to lay your weary head. To remain competitive, hotels must be cozy on the inside and stunning on the outside, and represent an idea rather than a business model. With the growing popularity of responsible travel and ecotourism, the most unique African hotels aim to please your eye, delight your taste buds, guard your sleep, blend in with the surrounding environment, provide benefits for the local community and maintain the fragile balance of the eco system.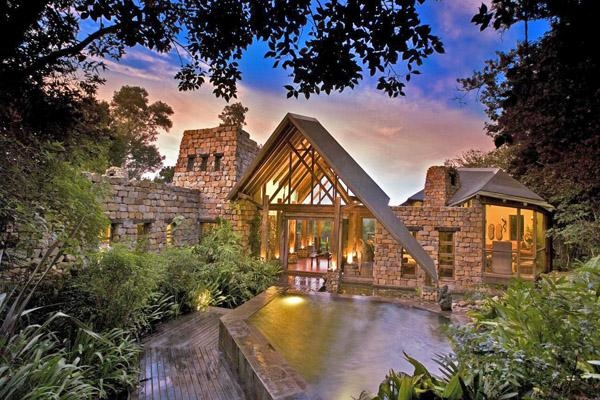 Off the N2, 10km west of Plettenberg Bay, South Africa
The handcrafted interior design, magnificent view of the rolling hills and unique stonework architecture make Tsala one of the most spectacular and fascinating places to spent a few nights, on your way between Plettenbegr Bay and Knysna. After a walk in the magical forest, you may truly start to believe that this is the lost heaven on Earth. Tsala Treetop Lodge supports the local community by sponsoring the local children's education center, and all visitors are welcome to make a donation for environmental and social projects.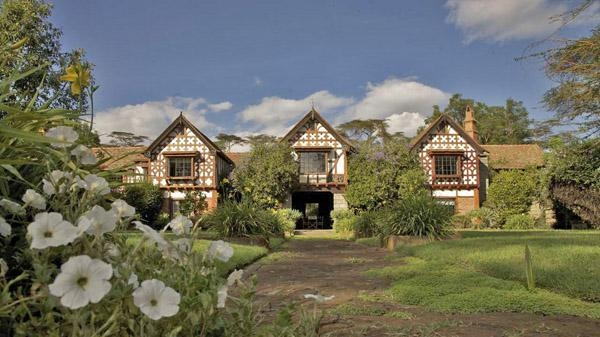 Hippo Point Wildlife Sanctuary, Lake Naivasha, Kenya
One of the most bizarre architectural statements of Kenya, created by the German-born interior designer Dodo Cunningham-Reid, has four double rooms and one single – all of them available for booking only a limited amount of days in the year. Situated by the magnificent Lake Naivasha, just a 1,5-hour drive from Nairobi, the tower represents the subtle integration of colonial architecture with Kenyan nature. From here, you can easily reach Hell's Gate National park, Mt Longonot Crater, watch multiple colorful bird species and of course, hippos.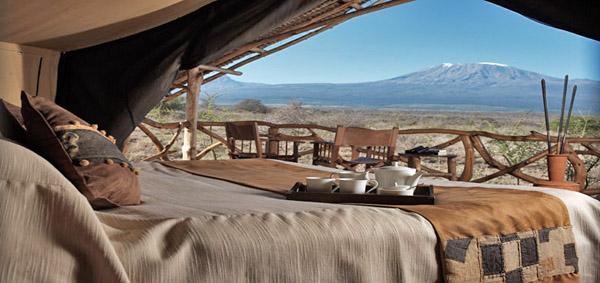 Near Amboseli National park, Kenya
Part of the Out of Africa Collection, Satao Elerai Lodge was designed to give you the ultimate experience of Kenya, with the majestic view over the plains of Amboseli National Park and the crown of East Africa – Kilimanjaro. This lodge is comprised of several wonderful luxury tents and en-suite rooms, with solar showers and large balconies that will allow you to relax during the day and watch zebras and giraffes graze just a few meters away in plain sight.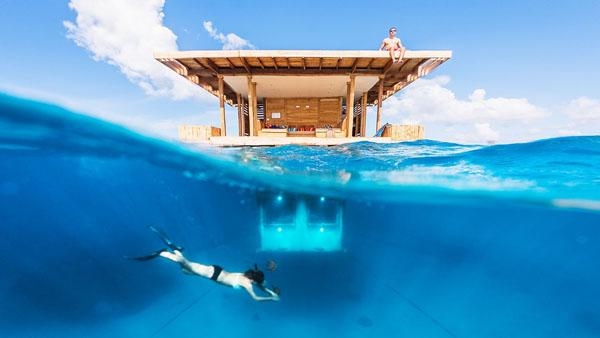 Pemba Island, Tanzania
One-of-a-kind underwater hotel room in Tanzania's Zanzibar archipelago, the Manta Resort is accessible from Pemba island. You do not need to be scuba diver to get inside, but make sure you are comfortable with the idea of spending your day and night in the aquarium 4 meters below the water surface, for the entertainment of thousands of colorful fish who will float by and watch you take your morning breakfast. The Manta resort works in close collaboration with local community and organizes magnificent safaris and diving trips around the region.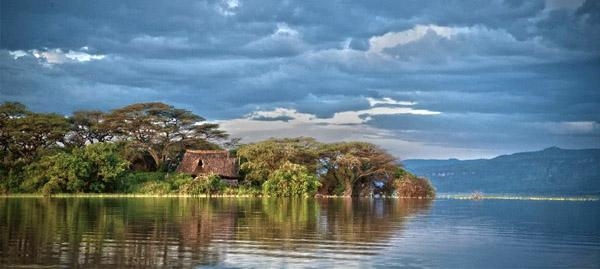 Second oldest luxury camp in Kenya, the Island Camp on Lake Baringo is the most perfect stopover on your way to Northern Kenya. The abundant wildlife of the region includes hippos, crocodiles, ostriches, giraffes, impalas and over 470 species of birds. The camp is located on an island in the middle of the lake, and it takes about 30 minutes to get there by the Camp's own boat. The Camp management donates part of its proceedings to support the island community and education projects in the area.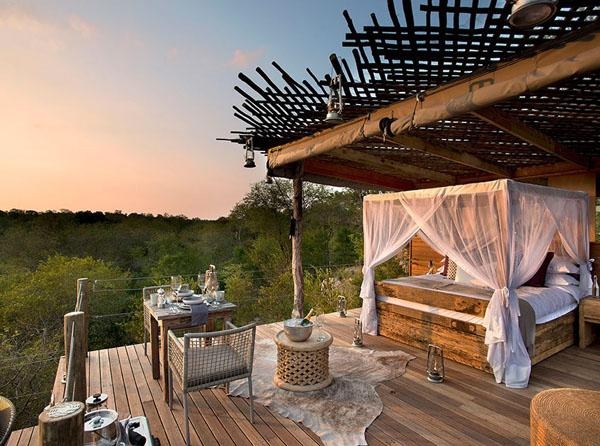 Sabi Sand Reserve and Kruger National Park, South Africa
When staying in a luxury safari lodge is not enough, when you are craving more privacy, countless stars in the sky and undisturbed sunrises accompanied only by twittering of the birds, Lion Sands Lodge offers accommodation in its three tree houses, built right above the treetops. There is no electricity, but the tree houses are equipped with everything to provide for your comfortable and safe stay. If you've been planning to go off the grid for a while, this would certainly be the place to do it with style!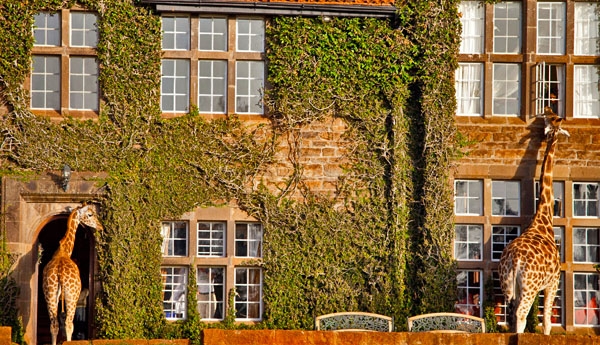 Langata, Nairobi, Kenya
The Giraffe Manor would be our ultimate pick for those who travel with children. Located in the green suburbs of Nairobi, this elegant house with green terraces and courtyards offers accommodation in 10 comfortable decorated rooms. But its most unique feature is the possibility to feed giraffes right from your window, as the animals stroll around the surrounding landscape and do not fear human presence.
---
Sources and credits
http://www.koolrooms.com/hotel/Giraffe-Manor.htm#.VUj_IPlVhBc
About the author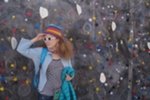 caorarua

Has been on: 5 safaris
Backpacker. Writer. Vegetarian. Relapsing coffee addict. Bush camping fan. Still manages to write comprehensible notes while suffocating on a dusty bus ride. Main memories stashed at http://isoladelgiornoprima.wordpress.com
Share on:
© Your African Safari Ltd, All rights reserved.
About YAS
Your African Safari is a safari-planning and safari review site. It was created to help support a healthy African wildlife population. All reviews are vetted before being approved and only ethical tours are published