The Greatest Show on Earth
10 days—Zakouma National Park on a Budget
Safari summary
Zakouma National Park is arguably the most exciting safari destination on the continent right now. Once on the brink of destruction, excellent work by the African Parks Network have restored the park to its former glory. Guests can now expect some of the finest wildlife viewing anywhere in Africa, with all of the 'Big Five' seen, as well as vast herds of grazers. Incredible night drives offer the chance to spot caracal, serval, striped hyena, pale fox and aardvark, with birding around the Rigueik Pan often a highlight. As expansive flocks of red-billed quelea gather to drink, hunted in their thousands by yellow-billed kite, this is simply one of the finest wildlife spectacles on earth.
---
About this tour
| | | |
| --- | --- | --- |
| | Tour type | Set-date, set-itinerary, group |
| | Main focus | Game drives |
| | Activity level | Easy activity |
| | Best months | March |
| | Countries | Chad |
| | Parks | |
---
Fine details
Safari highlights
What's included?
Airport transfers
Private vehicle and driver
Meals
Park fees
Accommodation
What's not included?
Alcoholic beverages
Premium alcoholic beverages
Tips and gratuities
International flights
Visas
Itinerary
Arrival into N'Djamena
On arrival into N'Djamena, you will be met by your Pictus Safaris tour leader and transferred to your local hotel. With the rest of the day at leisure, we recommend keeping an eye on the nearby Chari River, as it is home to some of Chad's few hippos. There will be a pre-tour briefing in the hotel tonight before dinner.
Radisson Blu N'Djamena
Transfer to Mongo
In total it takes approximately thirteen hours, without breaks, to make it to Zakouma from N'Djamena by road, and we will leave early today to make as big a dent in this as possible. We will be on the road for around seven hours today, taking in the beautiful and diverse landscapes of Chad. We will overnight at a basic campsite near the town of Mongo.
Camping
Transfer to Zakouma
Zakouma
We aim to arrive in Zakouma by late afternoon today. After a brief chance to settle in to our accommodation, the excellent Tinga Camp, we will head out for our first late evening/night drive in the area around camp. This area is excellent for sightings of rarities including serval, caracal, pale fox and civet, and we may even be lucky enough to spot our first lion, leopard or cheetah this evening. On our return to camp, dinner will be served before some well-earned rest.
Tinga Camp
Full day in Zakouma
Zakouma
We have the rare luxury of five full days in the national park, with our days structured around morning, afternoon and night game drives from camp. We hope to visit the iconic Rigueik Pan at least twice during our stay. This wetland area offers incredible birding opportunities, and is also a good spot for lion, buffalo and tiang. When not at the Rigueik Pan, game drives will take us through the diverse habitats in Zakouma, where a range of species are well seen.
Tinga Camp
Full day in Zakouma
Zakouma
Today we are likely to focus on locating one of Zakouma's highlights - the largest single herd of elephants in Africa. This herd is sometimes up to 550 animals strong, an incredible sight. Our drive to and from this herd will take us through some of the best dry-country habitat in the park, where we may glimpse western greater kudu, caracal, pale fox, cheetah and striped hyena.
Tinga Camp
Full day in Zakouma
Zakouma
Today's drives will focus on the excellent game-viewing in the riverbeds around camp. Large prides of lion are easily seen here, as are buffalo, lelwel hartebeest and much more. Highlights include red-fronted gazelle, Kordofan giraffe and, occasionally, leopard. If very lucky, we may even glimpse the park's two remaining black rhino, or the very rare wild dog.
Tinga Camp
Full day in Zakouma
Morning and evening game drives allow us to focus on any wildlife, including cats, we may have yet to see. Lions are often seen in Zakouma, with occasional leopard and cheetah sightings. Zakouma undoubtedly offers some of the best viewing of small cats in Africa, with serval, caracal and African wild cat all seen very frequently.
Tinga Camp
Full day in Zakouma
Zakouma
Our final full day in Zakouma can be dedicated to your interests, be that birding, big cats or re-visiting the elephants. Be sure to enjoy your final night drive, when you may see anything from honey badger to black rhino.
Tinga Camp
Transfer to Mongo
Today we transfer back to our basic campsite in Mongo, a drive of six to seven hours.
Camping
Transfer to N'Djamena
We return to N'Djamena today, arriving in time for your homeward flights this evening.
Here are the latest tours by Pictus Safaris.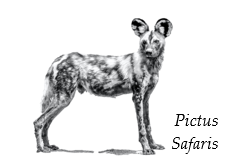 ---
Overall rating
Cleanliness of vehicle
Meet and greet team
Quality of itinerary
Responsiveness of staff