A lechwe in the mist at sunrise in Kafue's Busanga Plains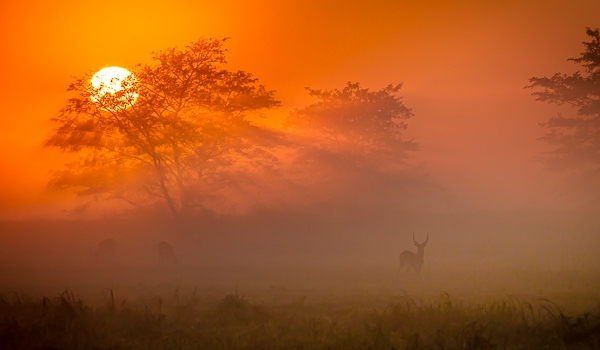 Published on November 17 2015
Written by: Morgan
914 views
The wild side in Zambia's Kafue National Park
Highlights
Kafue is a huge park offering real wilderness and a huge diversity of species. It's great for return safari-goers looking for something different.
While wildlife numbers are relatively low, so are tourist numbers, so you can have the place to yourself.
The real highlight is Busanga Plains—it's tough to get to, but it offers top class game viewing and wilderness rivaling anything else the continent has to offer.
Kafue National Park, Zambia
In the center of western Zambia, worlds away from the hustle and bustle of the capital Lusaka, Kafue National Park sprawls over a vast landscape of miombo woodlands, grassy plains, and verdant swamps. Kafue, at nearly 9,000 square miles, is the biggest and oldest park in Zambia, and the nine game management areas surrounding the park triple the area under partial protection.
Kafue is a massive piece of conservation real estate. Unsurprisingly, it hosts an incredible diversity of wildlife. Nearly 500 bird species attract birdwatchers from around the planet, while Kafue also boasts the most ungulate species in Africa—from the shy, swamp-living sitatunga to rarer subspecies Lichtenstein's hartebeest and defassa waterbuck. It's also thought to be the last stronghold for cheetah in Zambia.
Have the Kafue wilderness to yourself
While Kafue has a lot to offer in terms of wildlife, something it doesn't feature is many tourists. On a recent self-drive safari, we opted to enter the park through the southern gate, Dundumwezi, on a mission to drive the entire length of the park. We were the first people through the gate in five days! We didn't see another car for two days until we made it past Lake Itezhi-Tezhi. The vast, 150 square mile lake is a huge draw for wildlife and feature hippos, crocodiles, and thirsty elephants in addition to herds of puku antelope. We were extremely lucky to spot a family of five cheetah, a mother and four nearly-grown cubs, hiding in the grass on the banks.
Hook Bridge is where most of the visitor action in Kafue National Park is. It's where the main road from Lusaka crosses over the Kafue River, which is also the eastern boundary of the park, and there are several nice lodges and camping options just outside the park gate.
Kafue is generally considered a destination for experienced safari-goers looking for rarer species or visitors who want peace and wilderness over nonstop game viewing action. To be honest, in most of the park, game viewing just can't match safari hotspots like South Luangwa. Kafue's miombo woodlands are relatively low in nutrients, so while species diversity is high, animal density is not. For example, though Kafue is more than twice the size of South Luangwa, they both have about the same number of elephants. Kafue's wildlife also tends to be rather skittish. On the plus side, in Kafue, you're much less likely to see other game drive vehicles at your sightings.
Don't miss Busanga
But Kafue has a secret—Busanga Plains. Busanga is a swamp in the far northwest corner of the park that teems with wildlife offering top notch game viewing. Water birds flock there in the thousands, puke and lechwe graze in vast herds, elephant and buffalo visit for a drink, and lions lie casually in wait in the grassland plains. Leopards, wild dog, and cheetah, while harder to see, are present as well. If you're going to Kafue, Busanga Plains is not to be missed.
The catch is, it's extremely difficult to get there, and it's only accessible during the driest three months of the year, roughly July to September. There are three luxury lodges in the area, and many of their guests transfer in by private charter. You can drive to the Busanga Plains in a day from Hook Bridge, but if you're not staying over in one of the lodges, you won't be able to make it back in time. A stay in Busanga is well worth the splurge. Busanga sunrises are the most spectacular I've seen—mists in the cold winter months amplify the orange glow of the rising sun creating an incredible landscape of lechwe, palm trees, hippos, and flocking birds silhouetted in the glow. Photographically, it's award winning material! I can't wait to go back!
---
Sources and credits
Morgan Trimble www.morgantrimble.com
About the author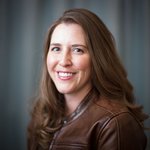 Morgan

Has been on: 20 safaris
I'm an adventurous traveler and like to get off the beaten track. I'm a writer and photographer, and I enjoy a wide range of topics, especially travel, adventure, and nature. See more of my work at www.morgantrimble.com
Share on:
© Your African Safari Ltd, All rights reserved.
---
1 Comments
---
Said on 05 November 2016 16:42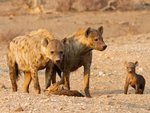 Busanga...amazing. Had a base at Kafwala Rapids and started at -3h00 for the Plains and returned at 21h00 to base. Should've stayed overnight at Busanga but can't wait to be back!
---
Log in to leave a comment
About YAS
Your African Safari is a safari-planning and safari review site. It was created to help support a healthy African wildlife population. All reviews are vetted before being approved and only ethical tours are published