Always adhere to your guide's safety precautions, no matter how tempting Africa's wildlife seems!
Published on October 08 2013
Written by: Fran
678 views
Safari advice for first-timers
Highlights
To make the most of your safari, there are some things to bear in mind:
First-time safari travelers should never attempt a safari without a guide.
Your guide is your access to the local land, wildlife and community. You will be surprised what interesting details, tales and knowledge guides can share!
Always show respect for man and beast.
A safari should not be a rushed activity or part of a crammed itinerary, take your time to relax in Africa's beauty and you will return home with memories for a lifetime.
Does 'less impulsive traveler' describe your travel style? If so, you may very well have debated and planned your first safari for some time. But now that the planning is done, do you know what to expect, what to do or how to behave on your very first safari? Here's the blueprint:
Never attempt your first safari without a guide
Africa's bush necessitates experience. As a first-time safari traveler, never go without a guide. Not only is this wise for your own safety, but also so that you can gain the most from your safari experience. The inexperienced safari traveler will easily cross paths with wildlife without even noticing it. An experienced guide will be able to show you the footprints of wildlife in Africa's dust--something that you will never ever look past again. Guides usually know their parks and reserves like the palm of their hands and will point out wildlife in their hidden places, big and small. Respect any guidelines or restrictions which your guide may share: wildlife will always be unpredictable and out in the open there is little other protection than adhering to your guide's safety precautions.
What to take along?
The last thing you want is to be weighed down by electronic devices, unnecessary clothing and other possessions. A safari is your unique opportunity to experience the undisturbed nature of the natural environment--do not spoil this by fretting over belongings or by interrupting the sounds of the wild by constant digital sounds. You need only a few basic items to make the most of your safari experience. Two very important items that you cannot go without is a set of binoculars and a camera. When it comes to taking photographs, you surely want some excellent memories to take back home, but do not get consumed by finding the ultimate shot. To get the most from your safari, take some time to put your camera away and truly experience the uniqueness of Africa.
Clothing
Even though you might find yourself on African soil, do not get caught at dusk or dawn without a sweater or blazer--even in Africa it can get rather cool when the sun is not out. Always take a warm sweater and hat. If any of your safari activities will include walking in the bushveld, you will benefit from neutral colored clothing. Opting for neutral and natural colors rather than bright colors is usually advised by experienced guides and tour operators.
Get to know the local environment, wildlife and community
Whether you booked a safari holiday in Kenya, South Africa or Botswana, take some time before your departure to read up about the country you will be visiting (perhaps even learn a few words in the native language!). While on safari, you can benefit immensely by learning from your guide or any other local community member. Local knowledge about wildlife, indigenous plants and the environment usually surpasses what you read in books and magazines thus make the most of the opportunity in front of you. You will return home enriched with bushveld knowledge! No safari can take place in isolation of the local community and country you are visiting. Always show respect for the locals and you will most likely be greeted with warm smiles and a genuine interest.
Most safari travelers will agree that a safari is essentially about showing respect for Africa's wildlife and environment. Thus, if you ever find yourself in doubt of how to behave or what to do on safari, always remember to respect the African soil you're walking on, the animals that roam the land and the people that have lived there for centuries. There are few experiences as enriching as a safari. Take your time to absorb it all and leave a footprint as small as possible.
---
Sources and credits
Photo credits: some rights reserved by zrim via flickr [Creative Commons]
About the author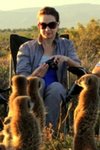 Fran

Has been on: 11 safaris
Seeing beyond the average tourist routes and experiencing local life is my type of travel! Living in South Africa I'm an environmentalist at heart, and I continue to marvel at the beauty of the African continent.
Share on:
© Your African Safari Ltd, All rights reserved.
About YAS
Your African Safari is a safari-planning and safari review site. It was created to help support a healthy African wildlife population. All reviews are vetted before being approved and only ethical tours are published