Kenya's standard gauge railway. Image by Kenya Railways
Kenya's new standard grade railway (SGR) and what it means for safari tourism
Highlights
Over 50 tour operators participated in the YAS article
The latest census put Tsavo's elephant population at over 12,000
Kenya is part of a master railway plan—one that will eventually link Kenya, Uganda, Rwanda and Southern Sudan by a standard railway. This high-speed, high-capacity railway will be for freight and passengers and is being completed in phases. Phase One, the lines between Mombasa and Nairobi, was completed in mid-2017. Phase One has been met with much concern and resistance from many groups as it passes through two of Kenya's wildlife areas: Tsavo and Nairobi National Parks.
What does the railway mean for Kenya's wildlife?
The first phase connects Mombasa to Nairobi and is roughly 480km (300 miles) in length. Of that, about 140 km run through Tsavo National Park. Tsavo is one of Kenya's top safari destinations and is also its largest park. According to Kenya Railways, the railway has been designed for environmental compatibility particularly within the National Parks where fencing will be provided along with underpasses for wild animals thereby ensuring minimal animal displacement[v]. It further claims that the National Land Commission (NLC) and Kenya Wildlife Service (KWs) were consulted on Tsavo and Nairobi National Parks and negotiations were made on how to ensure the railway wouldn't harm the animals. In some areas, the train will be elevated on pillars, sometimes as high as 40 meters, so that animals can pass freely below it. In other instances, they have constructed underpasses to help ensure minimal animal displacement[vi].
Features of Kenya's high-capacity SGR
· The standard grade was selected so that Kenya can seamlessly connect to neighboring railways in Uganda, Rwanda and South Sudan.
· Each freight train will have a haulage capacity of 4,000 tons (216 TEUS) with a designed speed of speed of 80 km/hour (50mph)[i].
· Each passenger train will have a capacity of 960 passengers and with a designed speed of 120 km/hour (75 mph).
· The railway is being built by China Road and Bridge Corporation[ii].
· Construction of the railway began in 2014 with an investment of $3.8 billion (USD), 90% of which is funded by China's Exim Bank[iii].
What tour operators are saying
YAS surveyed over 50 tour operators who offer tours to at least one of the two parks the SGR runs through. Of the tour operators surveyed, 90% of them offered tours to Tsavo. Of these tour operators, roughly 40% featured Tsavo in at least half of all the Kenya safari itineraries.
What percentage of your Kenyan safari itineraries include Tsavo?

Will you consider including the SGR in your itineraries, in lieu of domestic flights, to and from Tsavo?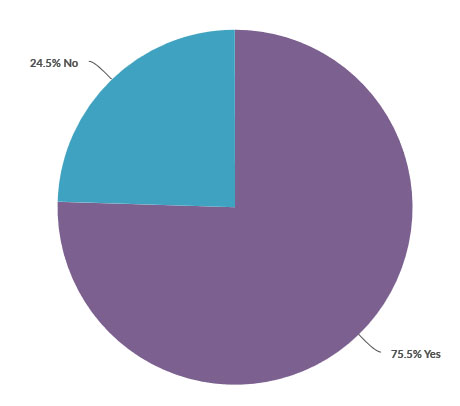 We then moved on to Nairobi National Park. We first found out how many tour operators offered safaris to this location. As you can see from the graph below, the most of the tour operators include Nairobi in 25-75% of their Kenya safari itineraries.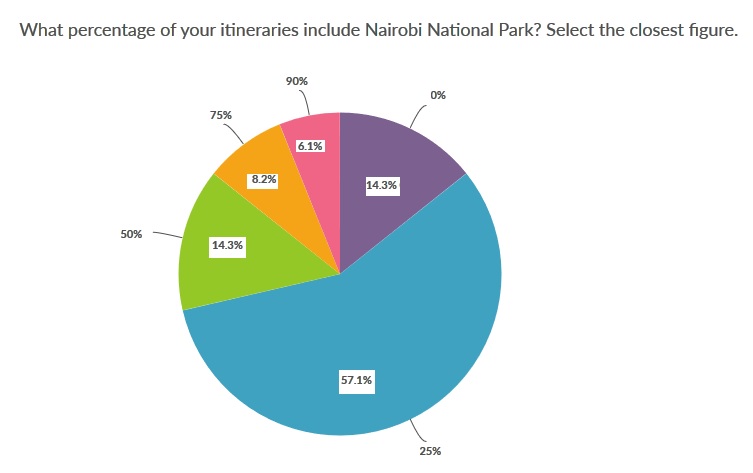 Lastly, YAS asked their opinion on the new railway and its impact on traffic and the wildlife. Most of tour operators felt the new SGR will have a positive impact on safaris. Many tour operators who wrote in their thoughts commented on the difficulty of pre-booking on the SGR.
Trankstrek Safaris Ltd said "We would only use the SGR if it was specifically requested by a client as we have tried it and found it to be quite difficult in regard to buying tickets. The boarding process is very long and can take several hours so, although it's a novelty, it isn't a quick or easy process to actually get onto the train!"
Brogibro Safaris also commented on the booking process, "We should be allowed to book the SGR online like other flight reservation, the system of booking is rather not sufficient for Tour Operators. Booking in 3 days to travel is not acceptable since some of our clients make reservations one year earlier or more."
Africa Last Minute added that "Until SGR goes online and payable via credit card, the railway will have little impact for wildlife safari itineraries. However, it has boosted beach hotel sales for locals."
We also received many comments that voiced concern about the wildlife and park size reduction.
Authentic East Africa Adventure said "As much as the SGR is a welcome project that modernizes travel and makes travel between the Kenyan coast and the rest of Kenya easier, its passing through Nairobi National Park will affect wildlife movement. It will also make a tour to Nairobi National Park less authentic. Having said that, the train tour will be more scenic with views of wildlife from aboard the train."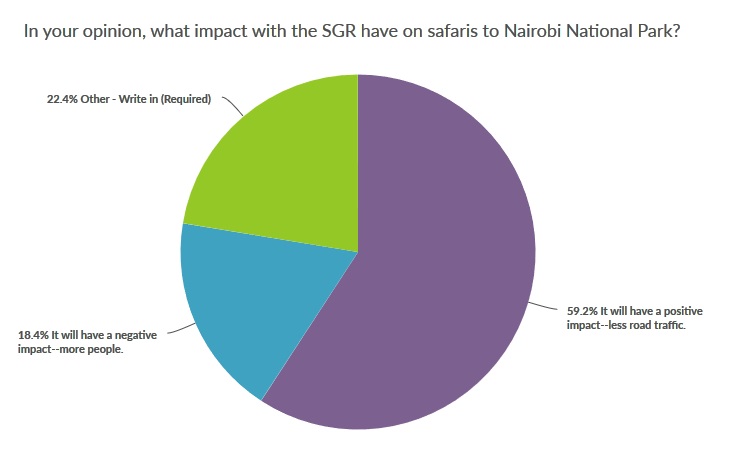 Kenya's safari tourism and the SGR
A 2017 census showed that the elephant population has risen above 12,000 again[iv]. According to the Director General of KWS, some elephants have been collared and are adapting positively to the new SGR[vii]. However, according to research done by Save the Elephants, who has been recording elephant movements since March 2016, eight elephants have been killed due to the SGR embankment barriers in 2016. In recent years, the average annual kill from road carnage was two elephants[viii]. Unfortunately, there has been a significant increase in the roads and railways that cut through wildlife-rich areas.
YAS wishes to thank all of the companies who participated in this article. The list below is not all companies who participated, some wished to remain anonymous.
Absolute Holiday Safaris
Acquire Adventures Safaris
Afram Safaris Ltd.
Africa Discovery Travel
Africa Last Minute Ltd
African exposure
African Memorable Safaris
African Outback Wildlife Safaris
African Suburbs Adventures
Afrika sights and adventures
Aryan Tours
Arrive Africa Safaris
As You Like It Safaris Ltd
Authentic East Africa Adventures
Brogibro Safaris & Events Management Ltd
CapeTravelOnline
Chaz Tours and Travel
CKC Tours
Covenant Tours Africa
Dallago Tours Kenya Tanzania
Dancom Tours & Travel
Denhum Holidays
Diani travel centre
Discover Africa
DK Grand Safaris
E-Trip Africa
Ewamanns Safaris
Experience Zanzibar Tours and Safaris
Glory safaris Ltd
Gorilla Mist Camp
IlMaasai Expedition
Incredible Kenya Adventures
Nature Bound Africa
Nature Expeditions Africa
Ngutu Adventures & Safaris
Northern Masailand Safaris
Rosolo Safaris
Seasons Tours and Travels
Serene East Africa Safaris
Severin Travel Africa
Siku Njema Tours and Safaris
Soin africa safaris
Solaris Tours and Safaris
Southern Valley Safaris
Tanzania Serengeti Adventure
Transtrek Safaris Limited
Vacay Holiday Deals
YHA Kenya Travel
Zaruma Safaris
Zoar Tours & Safaris
About the author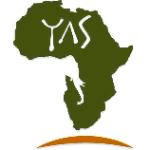 yourafricansafari.com

Has been on: 15 safaris
Your African Safari (YAS) is a safari-planning resource for anyone planning an African safari. It features information on over 2600 tour operators including company and vehicle descriptions, user reviews, safari itineraries and photos. It also features detailed information on 14 countries and 84 parks and game reserves.
Share on:
© Your African Safari Ltd, All rights reserved.
---
2 Comments
---
Said on 06 February 2018 13:27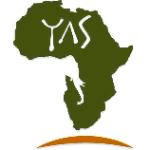 Thanks to all who participated
---
Said on 27 February 2018 13:57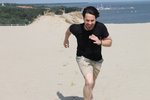 What a wonderful article!!!
---
Log in to leave a comment
About YAS
Your African Safari is a safari-planning and safari review site. It was created to help support a healthy African wildlife population. All reviews are vetted before being approved and only ethical tours are published