Flamingos on Lake Nakuru, Kenya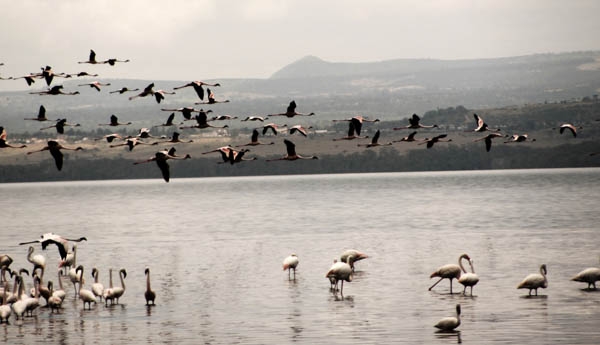 Published on September 09 2014
Written by: henrymuuthia
434 views
Kenya's national parks and reserves
Highlights
Recently the president of Kenya announced cuts on all premium parks as part of government efforts to revitalize the industry.
Additionally all air ticketing services supplied by travel agents are now exempt from 16% VAT tax introduced earlier.
Roughly 8% of Kenya's land mass is protected area for wildlife conservation
Kenya and its conservation
It is a little-known fact that about 8% of Kenya's land mass is protected area for wildlife conservation. Protected areas are gazetted landscapes or seascapes that have been surveyed, demarcated and gazetted either as National Parks or National Reserves. In Kenya, protected areas embrace various types of ecosystems namely: forests, wetlands, savannah, marine, arid and semi-arid areas. These protected areas comprise 23 terrestrial National Parks, 28 terrestrial National Reserves, 4 marine National Parks, 6 marine National Reserves and 4 national sanctuaries. These form a major tourist attraction with 53% of visitors coming to Kenya citing visitation of these protected areas as their primary motivation to visit the country.
The parks and reserves are branded as Premium, Urban, Wilderness, Mountain, Scenic and Special Interest, Marine Parks and Sanctuaries
The distinction between a park and a reserve is that while in parks there is complete protection of natural resources and the only activities allowed are tourism and research, in reserves, human activities are allowed under specific conditions. These activities include, for instance, fishing in marine reserves or firewood collection in terrestrial reserves.
Most of Kenya's protected areas are not fully fenced, and hence wildlife moves in and out of these areas in search of pasture and water during certain periods within the year. When they do so, they come into contact with people causing human wildlife conflict. Human-wildlife conflicts are a big problem currently facing conservation groups and government authorities. Let us look at some of the best protected areas you can visit while in Kenya. All dollar figures below are US dollar.
The Masai Mara National Reserve
The Masai Mara National Reserve is perhaps the most popular wildlife park in Kenya. It is globally famous for its exceptional population of lions, leopards and cheetahs but what makes it a show stopper is the great migration where millions of wildebeest and zebra embark on a mind-blowing journey between Kenya and Tanzania across the Mara River every year I what has come to be unofficially branded the 'eighth wonder of the world'. The journey starts in July and goes all the way to October.
Budget: Adults $90.00 Children $55.00
Our rating: 9.3/10
Distance from Nairobi: 270 Km
Lake Nakuru National Park
27% of Lake Nakuru National Park is occupied by the pink coloured Lake Nakuru. The lake gets its colour from the millions of flamingos that call it home. Lake Nakuru National Park, classified as a premium park, is also host to a number of other wildlife including nearly 450 birds species, white rhino, warthog, giraffe, hippo, ostrich and lion.
Budget: Adults $90.00 Children $55.00
Our rating: 8.6/10
Distance from Nairobi: 164 Km
Mount Kenya National Park
Mount Kenya National Park is where Africa's second highest mountain, which is also a UNESCO World Heritage site, sits. The park is home to rare species of animals as well as spectacular lakes, mineral springs and forests. The mountain is an incredibly important watershed, providing water for about 50% of Kenya's population and producing 70% of Kenya's hydroelectric power, not to mention the mysterious tropical snow that covers its world-famous peaks that have provided a formidable climbing challenge for many seasoned and amateur mountaineers.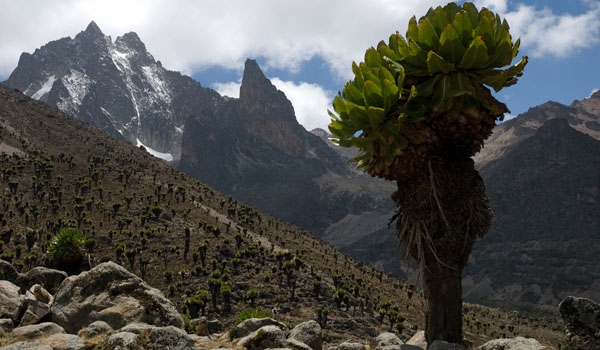 Budget: Adults $65.00 Children $30.00
Our rating: 9.4/10
Distance from Nairobi: 150 Km
Amboseli National Park
Amboseli is also another premium Kenyan park where one can catch breathtaking views of Mount Kilimanjaro, Africa's tallest mountain in Tanzania while criss-crossing with large herds of free-ranging elephants like nowhere else on earth. Amboseli is home to more than 50 species of mammal and over 400 species of bird.
Budget: Adults $90.00 Children $55.00
Our rating: 9.8/10
Distance from Nairobi: 150 Km
Tsavo National Parks
Tsavo National Park is split into Tsavo East and Tsavo West. The two are classified as wilderness parks and are separated by a highway that leads to the coastal town of Mombasa. Tsavo East is less developed than Tsavo West but more accessible. In Tsavo West you can watch elephants bathe among the hippos and the Nile Crocodiles from a unique vantage point of an under-water glass tank. Tsavo East is where the famous jumbo, Satao, recently slain by poachers, lived. Satao had some of the largest tusks in the wild and came from a unique breed of giant tuskers that can grow really large. Only a few remain in the world and they live in Tsavo.
?
Budget: Tsavo East and West Adults $74.00 Children $40.00
Our rating: Tsavo East 8.8/10 Tsavo West 9.7/10
Distance from Nairobi: Tsavo East 233 Km Tsavo West 240 Km
Aberdare National Park
Aberdare National Park, besides its captivating waterfalls that are the tallest in Kenya, also boasts a collection of over 250 bird species. The rare black rhino and black leopard and bongo antelope call this park home. Because of regular rains here, the park is evergreen providing cool temperatures perfect for hiking.
Budget: Adults $65.00 Children $30.00
Our rating: 9.5/10
Distance from Nairobi: 170 Km
Nairobi National Park
Nairobi National Park is one of Kenya's most successful black rhino sanctuaries, it also enjoys its own wildebeest migration as well as hosting over 400 species of bird. The park is so close to the city one could call it a suburb inhabited by animals. Walking trails offer visitors a chance to experience the African bush at its best.
Budget: Adults $50.00 Children $25.00
Our rating: 9.7/10
Distance from Nairobi: 7 Km
Meru National Park
Meru National Park is regarded as the new kid on the block of Kenya's National Parks. After a spate of misfortunes between 2000-2005 that saw it virtually enter the outcast category of places not to go, courtesy of banditry and poaching, Meru National Park has re-engineered itself as one of the most promising parks in East Africa. The park was made famous by the Adamsons when they raised Elsa the lioness that later featured on the Oscar-award winning film, Born Free, based on the book by the same title.
Budget: Adults $75.00 Children $40.00
Our rating: 9.9/10
Distance from Nairobi: 293 Km
With such a rich assortment of breathtaking gems of nature, one begins to understand why Kenya is this place you come to explore and never feel like leaving. The options to choose from are almost limitless as you discover that each of the parks has its unique attributes that pretty much sets it in a class of its own. Some of the parks give you bragging rights such as the Nairobi National Park, which is the only park in the world inside a city. During the period from July to October, Masai Mara National Park is the place to catch the great migration while Tsavo is the home of the mighty Tuskers still remaining on earth.
Depending on your objective, budget and disposable time, any of this parks has the ability to offer an unforgettable experience. Our ratings may be a rough guide to help you make prioritisation decisions but otherwise try to make time to visit all.
---
Sources and credits
www.enchanted-landscapes.com
About the author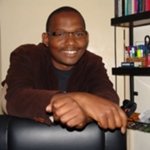 henrymuuthia

Has been on: 10 safaris
I am a lover of nature in its undiluted form and hence my passion for Africa Landscapes although i specialise in telling more of my Kenyan travel story hence the reason Enchanted Landscapes was born. I ensure I freeze every moment through photos so that I can show the world what a beautiful place Kenya is.
Share on:
© Your African Safari Ltd, All rights reserved.
About YAS
Your African Safari is a safari-planning and safari review site. It was created to help support a healthy African wildlife population. All reviews are vetted before being approved and only ethical tours are published