Cottar's Wildlife Conservation Trust's commitment to Kenya
Highlights
Cottars Wildlife Conservation Trust was established in 2006


OWC consists of 7608 acres

Restricting the number of tourist sites within the conservancy helps protect wildlife habitat from being overdeveloped
Cottar's Safaris is a well-established,101-year-old brand in the luxury safari industry. It has steadily grown from a small camp in Tsavo East, Kenya to an accredited, global ecosphere retreat with gold eco-ratings in the Masai Mara.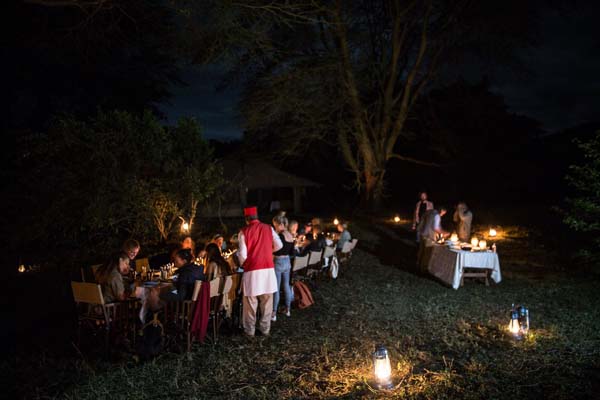 Guests know they'll be indulged in lavish furnishings, gourmet meals and exclusive settings when they splurge on an upscale safari. But they may not know that they're directly contributing to the conservation of the wildlife and wilderness they've traveled so far to enjoy. Or, that they're also investing in the livelihood of local communities, because all Cottar's properties are in the community-owned Olderkesi Wildlife Conservancy (OWC), in which Cottar's is a large investor.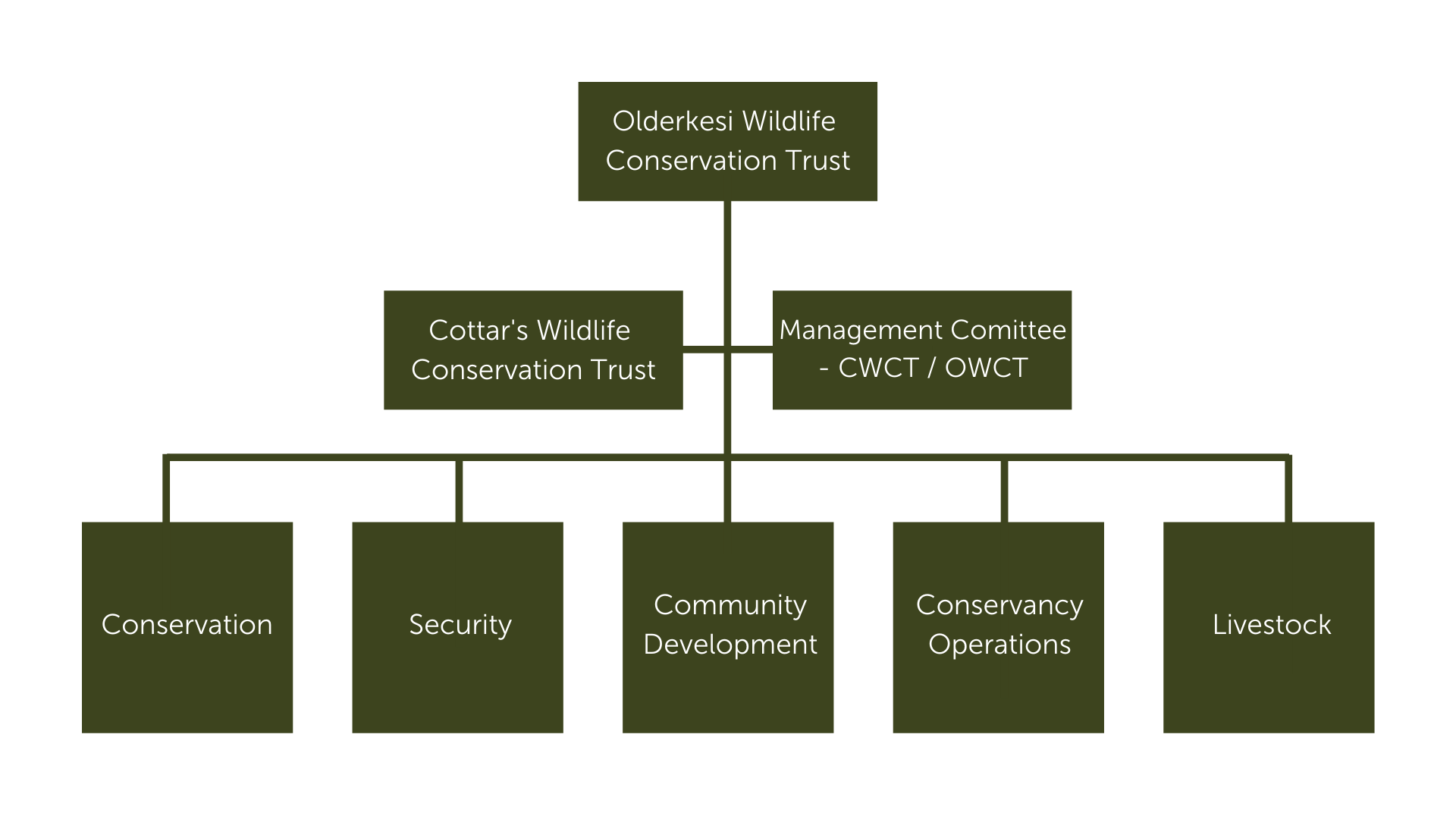 Cottars Wildlife Conservation Trust and Olderkesi Wildlife Conservancy
Established in 2006, Cottar's Wildlife Conservation Trust (CWCT) is a non-profit organization working to conserve critical wilderness and wildlife corridors and areas bordering the Masai Mara and Serengeti National Reserves. The trust works to protect biodiversity through empowering communities with wildlife conservation.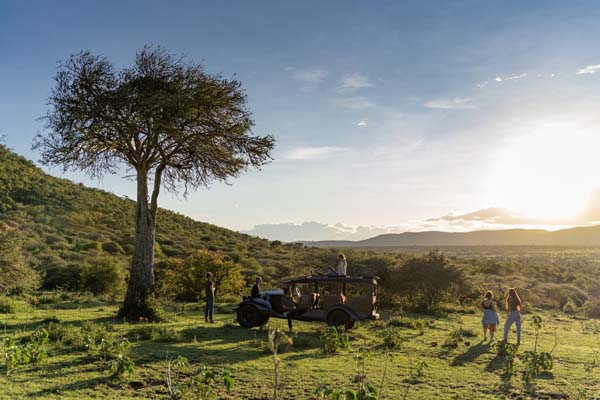 The Olderkesi Wildlife Conservancy (OWC) was opened in 2016. It consists of 7608 acres and is managed by CWCT. The OWC aims to become a leading community conservation area in the Greater Masai Mara ecosystem and in Kenya at large, to demonstrate a successful protection of fauna and flora species by protecting wildlife corridors and providing safe wildlife dispersal area while connecting the greater protected areas of the Masai Mara National Reserve in Kenya and the Serengeti National Park in Tanzania[i].
One of the greatest challenges facing the conservancy is balancing the management of visitors in order to develop and maintain a world-beating tourism product and secure the sustained flow of benefits, while also ensuring that visitor use does not place excessive pressure on the sensitive ecology and wildlife[ii].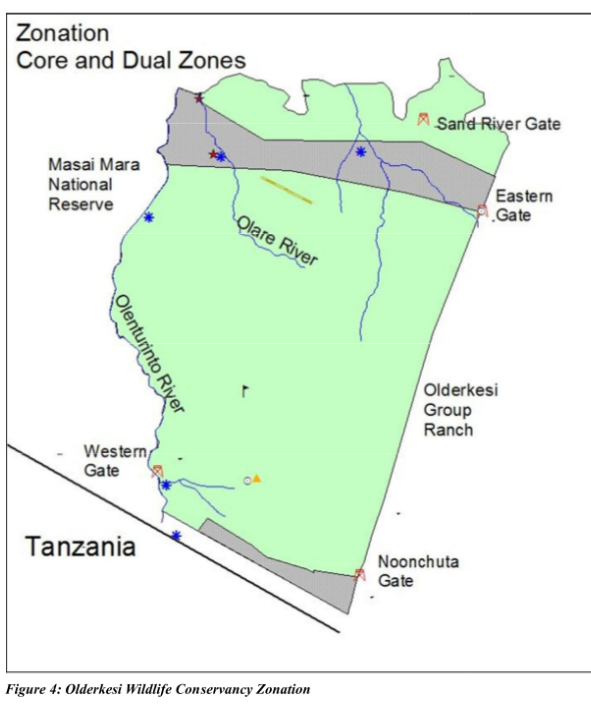 To help meet these challenges, the conservancy has two distinct zones.
Core zone for conservation (green area in map above).
Dual zone for livestock access to important resources i.e. water sources and salt licks (grey area in map above).
Cottar's Safaris is located at the yellow triangle.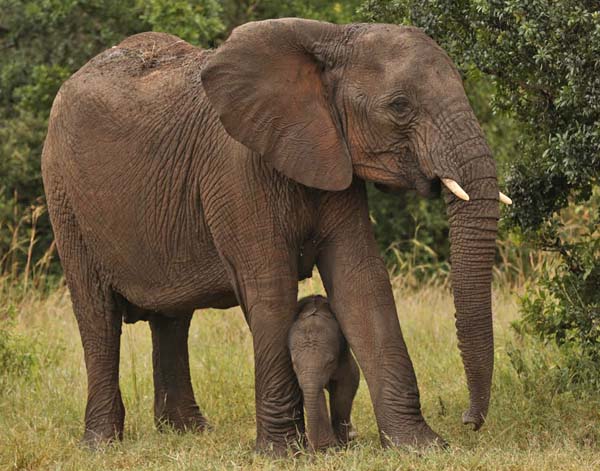 The core zone is strictly for wildlife and habitat conservation and tourism activities, and lucky guests of Cottar's Safaris will be privy to this protected area for their safari activities. In fact, efforts are in place to not develop these sites as the 'bed to area' ratio of the conservancy has already been surpassed as per the National Environmental Management Agency (NEMA) requirements for a wildlife conservancy[iii].
High value, low volume tourism
Restricting the number of tourist sites within the conservancy helps protect wildlife habitat from being overdeveloped. Less crowds for safari guests yield a better safari experience. Offering a premium level or high value, low volume tourism product will help the conservancy to raise the funds to improve local livelihoods as well as improve natural environment to allow for peaceful movement and dispersal of wildlife in the Olderkesi Conservancy. Cottars 1920's Camp and Bush Villa are the only large investor operating in the conservancy. They are willing to support community livelihoods through land sublease, employments etc. and have been advocating the idea of a premium or high value, low volume tourism product to ensure the longer term sustainability of the area.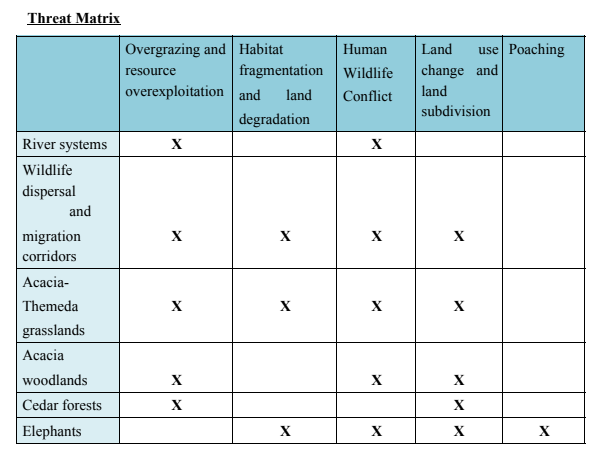 According to Calvin, land use change is the by far the biggest threat and he estimates that 99% of all poaching in the greater Mara ecosystem is a byproduct or consequence of this land use change.
Women rangers in Masai Mara
To help combat poaching, the conservancy has recruited and trained ten women rangers to assist in their land management and anti-poaching efforts. Female rangers communicate in a more compassionate manner than their male counterparts, and OWC is seeing positive results from having them on the ground.
Below is a photo of the first women's ranger unit in Masai Mara.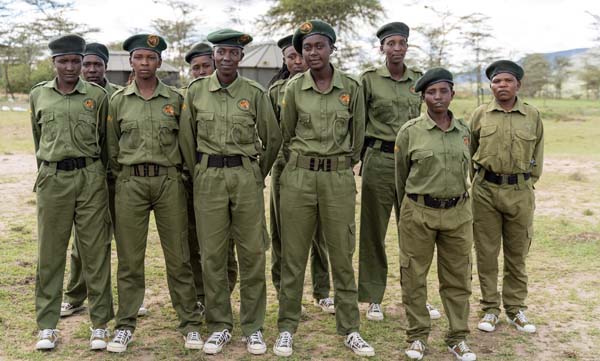 Going on safari with Cottars with a limited budget
Cottar's Safaris offer an exclusive safari experience with premium safari accommodations which consist of three properties: Cottar's 1920's Safari Camp, Bush Villa and Conservation Camp. Those with limited budgets who would like to stay with Cottar's and contribute to the conservancy have options. Cottar's 1920's Safari Camp green season rates, which run from 16 March through the end of May are 45% less than high season. Those staying at the Conservation Camp should know that all profits go directly to the CWCT.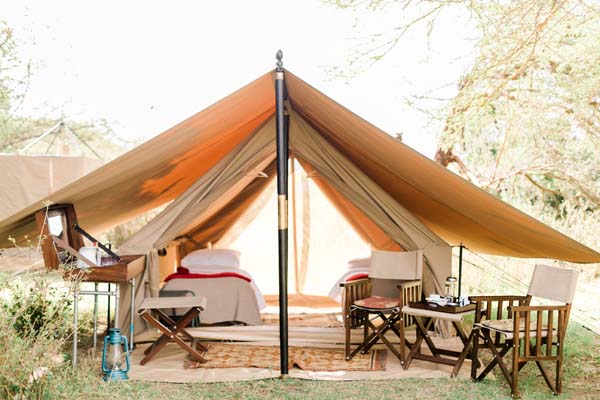 Interview with Calvin Cottar of Cottar's Safaris
YAS interviewed Calvin Cottar, fourth generation Kenyan who's been a safari guide since the ripe age of 15, to learn more about CWCT, its vision and how people can help.
In 1985 you started hunting safaris in Tanzania. In 1989, you left TZ to start wildlife management. Why the change and what was the impetus?
Two things made me move.
1) I saw that the hunting system in Tanzania was fundamentally wrong as any revenues generated were captured by state or operators with very little getting to rural communities, and
2) Dr Richard Leakey became director of KWS and was considering a change in Kenya policy so that wildlife user rights / benefits could be devolved to landowners. I wanted to help in this process.
CWCT is actively working to expand with a large and complex project that is to be rolled out in four phases between now and 2021. How can guests help on these projects?
Stay longer in the camps such as Cottar's that pay biodiversity easements as a principal, and if willing and able, donate additional funding or skills to push the program forward.
Do you offer any volunteer opportunities for those who have the time or skills but perhaps not the funds?
Skills can be on the ground as a volunteer (as long as the skills being offered are not taking away opportunity for local people) and at home educating and fundraising.
Cottar's mentions several conservation projects on its website: the Bee Project, Raptor Rehabilitation Centre and the Martial Eagle Project with Stratton Hatfield. Could you go into a bit of detail on each of these?
We have provided training for the bee keeping and hives are able to be visited, while the raptor centre is in the process of being designed and funded as we speak as a separate entity Stratton and his team have been working in the area for three years collaring martial eagles and is available to speak to guests when he is present at site. Guests will be able to visit when the centre is completed.
There is also the pangolin research project, and we work closely with mara elephant project.
However, the CWCT priority is the funding of biodiversity easements: the foundation of all conservation in the future.​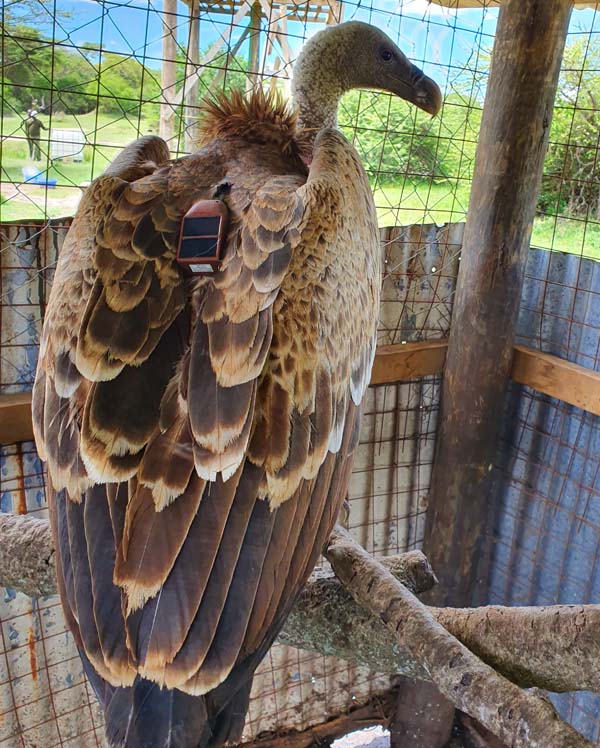 Can these activities be included on a safari? Do guests need to request these at the time of booking, or are they offered as standard to all guests who stay on your properties?
To a greater or lesser degree, depending on their interest, these can be included. The guide will understand and adapt your days on safari to visit specific areas of interest.
Maasai Mara: Are there activities you think are better outside of the peak seasons?
The Mara is unique in being perfect for wildlife viewing year-round and, sometimes, the experience is better in the off tourism season. The peak season coincides with the great migration but, even when the wildebeest depart, the Mara is second to none in terms of wildlife density. Lions hunt buffalo, for example, the place is more 'wild'; the climate is perfect and there are fewer tourist vehicles. You can come to the Mara four different times of the year and have completely different and wonderful experiences.
Are there any opportunities for recent graduates or those with extremely limited budgets who would be keen to go on safari with Cottar's? Any internship programs, for example?
We do have the conservation camp where such volunteers and students can have more affordable accommodation and a structure to be involved.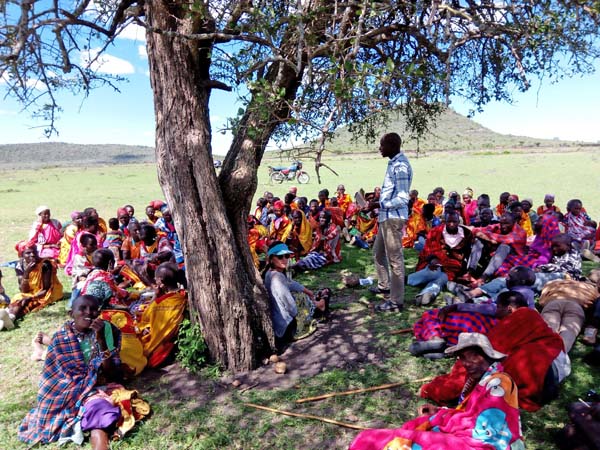 Ten years from now, what changes in the safari tourism industry would you like to see as a measure of success?
To secure all four phases on Olderkesi as well as the sand river corridor
What are the main changes that need to happen for these changes to become a reality?
We need to raise $3 million USD a year to achieve this. The constraint is not the willingness of the local people we work with, but our ability to educate the world and raise funds.
Anything else you'd like to highlight or make potential visitors aware of that I did not touch upon?
This is one of the most important ecosystems on the planet and it is under threat of land use change, because historically wildlife value was not accessible to the landowners where 70% of the countries wildlife lives (on private or communal tribal lands). By supporting the camps and lodges that fund the biodiversity easements of the greater Mara ecosystem, guests are making a real positive difference.
About Calvin Cottar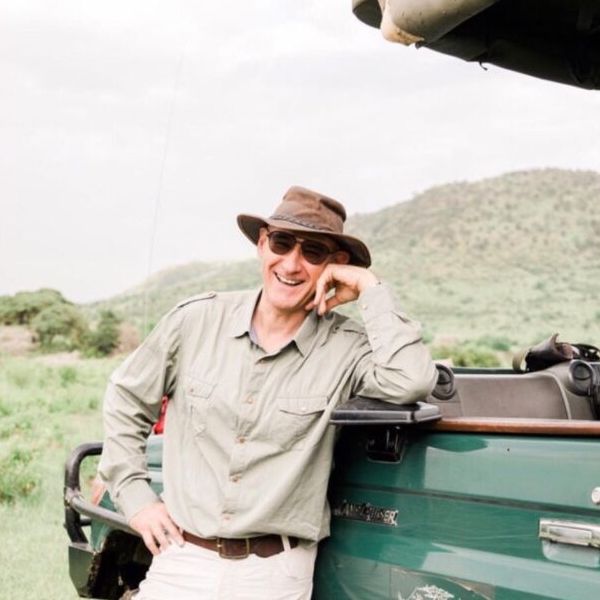 Favorite park or game reserve:
Park you'd like to visit but haven't, yet:
Favorite time of day for a game drive:
First light
Favorite animal:
Lion. But I would come back in another life as a bateleur eagle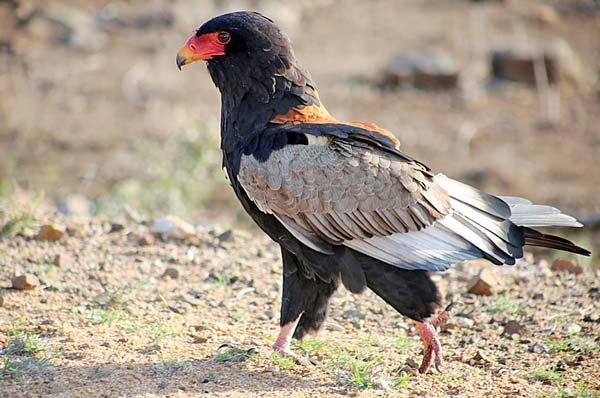 Favorite bird:
Bateleur eagle
Favorite animal noise:
Favorite sundowner:
G&T
To learn more about Cottar's Wildlife Conservation Trust or to donate, please visit their site.
About the author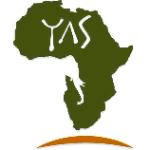 yourafricansafari.com

Has been on: 15 safaris
Your African Safari (YAS) is a safari-planning resource for anyone planning an African safari. It features information on over 2600 tour operators including company and vehicle descriptions, user reviews, safari itineraries and photos. It also features detailed information on 14 countries and 84 parks and game reserves.
Share on:
© Your African Safari Ltd, All rights reserved.
About YAS
Your African Safari is a safari-planning and safari review site. It was created to help support a healthy African wildlife population. All reviews are vetted before being approved and only ethical tours are published