Self Drive Safari
19 days—River to River Experience
Safari summary
Experience the the river activities in Zambezi, Chobe and Orange Rivers in just one trip
---
About this tour
Custom, tailor-made, private
Moderate activity
Main focus:
Walking safari—with armed guard
Best months:
All months
---
Fine details
Safari highlights
Boat, canoe, dhow, kayak, mokoro safari
Cultural visits—orphanages, markets, schools
Night game drives
Countries visited

Botswana

Namibia

South Africa

Zambia

Zimbabwe
Parks visited
Central Kalahari
Chobe
Etosha
Nxai Pan
Okavango Delta
Victoria Falls
Itinerary
Day 01
Victoria Falls
DAY 01: Shearwater Explorer's Village Victoria Falls, Zimbabwe – Arrive into Victoria Falls airport, road transfer to Explorer's Village. Explore the Victoria Falls. **Night accommodation at Shearwater Explorer's Village in a Standard room on bed and breakfast. There is a wide range of activities in Victoria Falls e.g. Boat cruise, helicopter flight, water rafting etc. – book and pay directly for all extras. Alternatively prebook with us!
Day 02
Chobe
DAY 02: Kubu Lodge, Chobe River Front Kasane A road transfer will take you across the border from Zimbabwe to Kasane. Enjoy the warm tropical climate of northern Botswana at a small lodge overlooking the Chobe River. A representative from a 4 x 4 Hire company will meet you at the lodge for a full briefing of the vehicle & equipment & the route you will be driving. After the briefing you will take your vehicle and buy all the provisions you will require for your Self Drive Expedition. **Night accommodation at Kubu Lodge or similar. Sunset cruise is a must do in the Chobe River later that afternoon. Find a cozy restaurant for dinner – book and pay directly for all extras. Alternatively prebook with us!
Day 03
Chobe
DAY 03 & 04: Savuti, Chobe National Park Travel through the Chobe National Park towards the small village of Kachikau, from here you drive through the Chobe Forest Reserve via Gcoha gate. Savuti is well known for a large population of leopards that lives in the hills and can be spotted in the early and late afternoon game drives. **2 Nights camping in Savuti area. You can now start cooking from the comfort of your campsite!
Day 05
Moremi
Day 05 & 06: Khwai, Moremi Game Reserve Leave early morning from Savuti, dependent on what you will see on the way the drive from Savuti to Khwai is approx. 4-6 hours. Spend the afternoon on game drives, Khwai has a fantastic game viewing at every turn and has stunning scenery. **2 Nights camping in Khwai area of the Moremi Game Reserve
Day 07
Moremi | Okavango Delta
Day 07 & 08: Moremi Game Reserve Head towards the Western Moremi which is an integral part of the eastern waters of the Okavango Delta. This area of Game-Reserve has areas of dry lands rising between vast wetlands, crystal clear water channels on the edges of Mopane and Apple-Leaf woodlands. Afternoon game drive and optional boat cruise in Xakanaxa area **2 nights camping in the western Moremi area - book and pay directly for all extras.
Day 09
Okavango Delta
Day 09: Maun Today you will take an easy journey on further west into the Safari Capital Maun, to your hotel which has a pleasant eating area with a welcome swimming pool. The afternoon is an optional scenic or heli flight over Okavango Delta. Replace all safari supplies for the next adventurous days. Choose yourself a nice restaurant for your dinner and good wine. **Night accommodation at a Bed and Breakfast facility
Day 10
Day 10: Dqae Qare San Lodge, Gantsi At Dqae Qare San Lodge you will be welcomed by the San themselves who will prepare your rooms and meals and ensure that you experience the San culture through their range of activities. Enjoy a genuine experience of the open spaces and quiet peace of the Kalahari in the company of the wonderfully open and friendly San people.  **night camping at Dqae Qare San Lodge campsite
Day 11
Kgalagadi
Day 11 & 12: Zutshwa, Name Pan Campsite One the unpaved main road from Hukuntsi to Zutshwa village, Name Pan Campsite is situated on the road between Zutshwa village and the Kaa Entry/Exit gate into the Kgalagadi Trans frontier Park, approximately 50km from the Kaa Gate and 22km from Zutshwa Village. Visit the permit station before proceeding to camp at KD2 as there is no possibility of making a booking in advance. **2 nights camping in Zutshwa and KD2! – Please note there are no facilities like water, toilet or shower!
Day 13
Kgalagadi
Day 13 Polentswa Lodge Polentswa is located 222 km from Two Rivers along the predator rich Nossob Valley on the Botswana side of the Kgalagadi Trans frontier Park. The camp is nestled amongst tall trees and dwarf scrubs overlooking the Polentswa Pan with its waterhole and exciting game. **1 night accommodation at Tashebube Polentswa Lodge on full board
Day 14
Kgalagadi
Day 14: Rooiputs Lodge The Rooiputs private concession area is located within the captivating Kgalagadi Trans frontier Park on the Botswana side, 25 km north of Two Rivers (Twee Rivieren). Situated off the predator-rich Nossob valley, the lodge is perched along a mature red sand dune, overlooking a busy water hole.   **1 night accommodation at Tashebube Rooiputs Lodge on full board
Day 15
Day 15: Nossob Rest Camp The route from Rooiputs to Nossob Rest Camp crosses a country border with approximate driving of 2 hours. This is a fantastic campsite with modern ablutions. ***1 night camping at Nossob Rest Camp
Day 16
Day 16: Twee Rivieren The driving distance from Nossob to Twee Riviern is 3.5 hours. On the dry riverbed of the Nossob River, the camp is surrounded by tree savannah and is famous for spectacular predator sightings. ***1 night camping at Twee Rivien Rest Camp  
Day 17
Day 17 & 18: Orange River Hotel The drive from Twee Rivieren Rest Camp to River Bank Lodge is 2.5hours. Here you can unwind, with free wireless internet connectivity. A visit to a local museum is a must do! **2 nights accommodation at River Bank Lodge or similar on bed and breakfast -   book and pay directly for all extras.
Day 19
Day 19: Return the vehicle at Upington before taking your flight out.
Here are the latest tours by Net Dew Travel.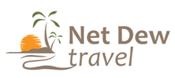 ---
Overall rating
Cleanliness of vehicle
Meet and greet team
Quality of itinerary
Responsiveness of staff